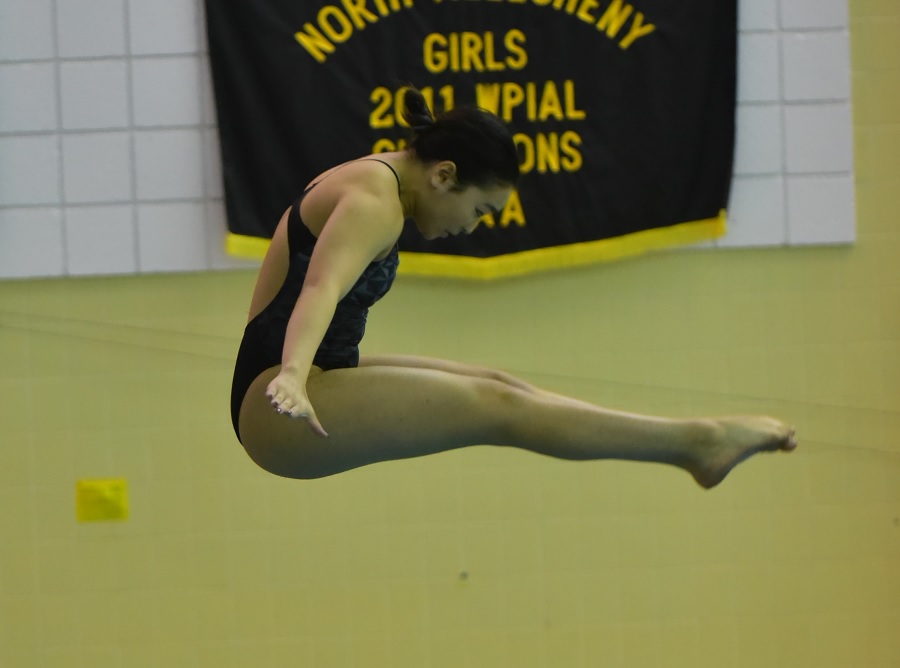 Christina Shi Sets New Pool Diving Record, NA Sweeps Seneca Valley
by Caitlyn Edwards
WEXFORD, Pa. – The North Allegheny Men's and Women's had a long-awaited meet Wednesday night at North Allegheny High School. The Tigers would have to face the reigning Men's WPIAL and PIAA Champs of 2022, Seneca Valley. The Tigers were able to sweep the Raiders by a 104-77 score on the girls' side and 108-76 on the boys' side.
The women's divers opened up the meet strong by sweeping the competition. Christina Shi finished first with a score of 305.60. Her final dive prevailed her strong performance to finish the women's diving portion by breaking her pool record for six dives that Shi had previously set in 2020. Lola Malarky finished second with a score of 298.25 while Maddie Whitewolf finished third with a 236.90.
The Tigers won 17 out of the 24 events to remain dominant in the pool. Greta Mott, Natalie Sens, Eva Ogden, and Rebecca Melanson kicked off the meet by winning the 200-yard medley relay with a time of 1:48.99 while the boy's quartet of William Gao, Gus Miller, Zachary Totin, and Grant Regule would touch first with a time of 1:36.76.
Lexi Sundgren would then go on and win the 200-yard freestyle (1:54.78). Sundgren would also touch first in the 500-yard freestyle (5:12.35). Melanson also recorded two individual wins for the Lady Tigers Wednesday evening in the 50-yard freestyle (25.14) and the 100-yard freestyle (54.64).
Dani Hinkson, Sens, and Mott each finished with one individual win on the evening. Hinkson took top points in the 100-yard butterfly (59.39) while Sens won the 200-yard IM (2:08:65), and Mott claimed gold in the 100-yard backstroke (59.47).
Regule and Gao led the Tigers on the boys' sides with two individual wins. Regule took home the 50-yard freestyle (21.95) and the 100-yard freestyle (49.43) while Gao won the 100-yard butterfly (51.76) and 100-yard backstroke (52.33).
Miller clocked in the first individual win of the night on the boy's side, touching first in the 200-yard IM with a time of 1:59:08. Danny Lesinski would add some much need points on the boy's side by finishing second with a 2:00.62.
While Sundgren and Gao are recognized for their tremendous efforts, Shi and Regule took home the Wright Automotive Swimmer and Diver of the Night Awards. Shi won for her exhilarating performance and breaking her own record from 2020. Regule won for his first-place finishes in the 50 and 100-yard freestyle and his strong performance to help win the 200-yard freestyle relay.
The Tigers return home next Thursday, February 9, to host Mars High School. Diving is slated to start at 6:00 PM with swimming following the conclusion of the diving portions.