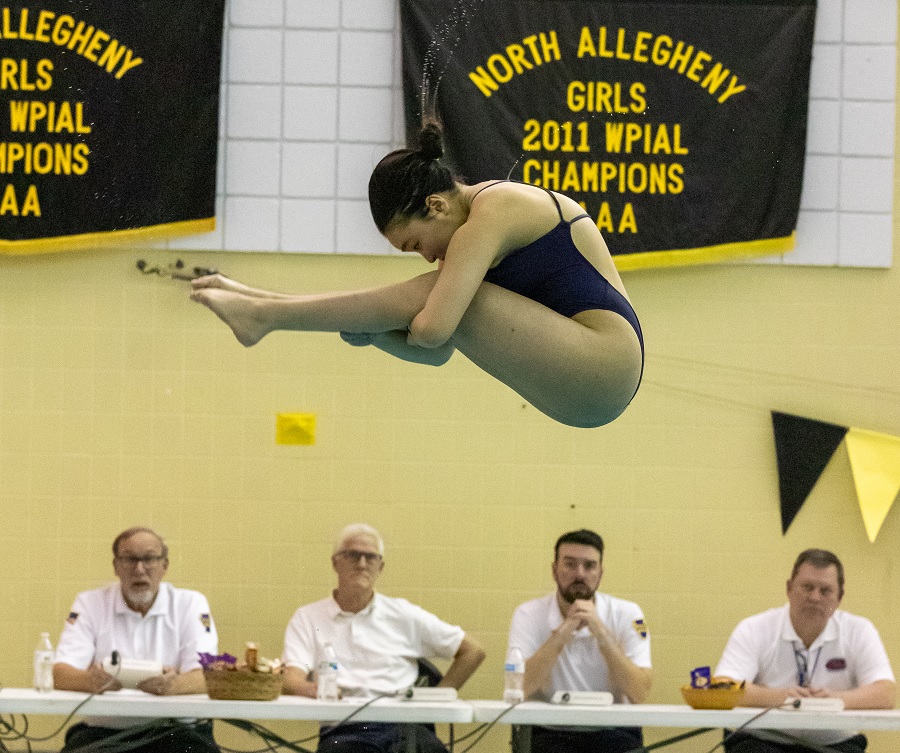 Christina Shi Wins 3rd Consecutive PIAA Diving Championship
North Allegheny senior Christina Shi won her third consecutive PIAA Class AAA diving championship on Friday at Bucknell University. The Harvard University commit totaled a score of 264.45 to become the WPIAL's first diver since Chartiers Valley's Maria Lohman (2013-2015) to win three straight Class AAA state diving titles.
Along with Shi's impressive effort to stand atop the podium, sophomore Lola Malarky earned state bronze with a diving score of 245.95 and sophomore Juliet Hood earned a seventh-place medal with a score of 212.55. The performances of the NA Divers headlined the effort for the Lady Tigers, who sit in first place in Class AAA following day one of the two-day PIAA championships. The NA Girls have a team score of 138, sitting 20 points ahead of second-place State College.
Important team points were seized by the 200 Medley Relay combo of junior Greta Mott, junior Natalie Sens, freshman Eva Ogden and senior Rebecca Melanson. The quartet earned a fourth-place finish in the event with a time of 1:45.24. Individually, senior Lexi Sundgren took fifth place in the 200 Free with a time of 1:49.87. Finally, the 200 Free Relay grouping of Sundgren, Melanson, Sens and freshman Clair Bacu captured sixth place with a time of 1:37.38.  For a look at all results from day one for the PIAA Class AAA girls' competition, click here. For a look at all Class AAA girls' diving scores, click here.
The NA Boys concluded day one with a team score of 53 points, good for seventh place. La Salle College High School is the pacesetter with a score of 122.50. The top performance of the day for the NA Boys was delivered by the 200 Medley Relay team of junior William Gao, sophomore Gus Miller, junior Riley Williams, sophomore Grant Regule. The NA quartet took fifth place with a time of 1:33.60. Individually, Gao placed sixth in the 100 Butterfly, clocking in with a time of 50.03. For a look at all results from day one for the PIAA Class AAA boys' competition, click here.
Off to a great start, North Allegheny will continue its quest for a state title on Saturday in day two of the PIAA Class AAA championships at Bucknell University.