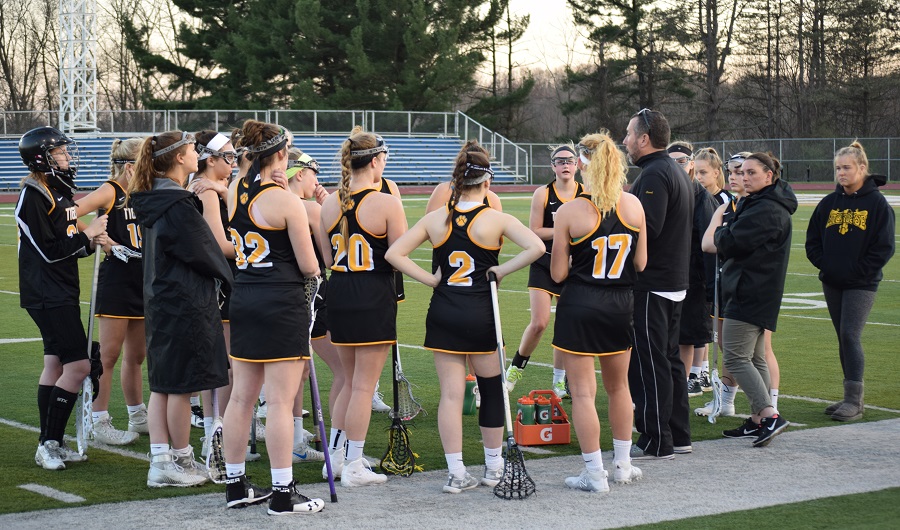 Girls Lacrosse Season Ends With Narrow Loss To North Hills
By Jared Barton
Throughout the 2018 season, the North Allegheny Girls Lacrosse team crafted a few second half comebacks, but late game heroics were not in the cards Wednesday night as the Tigers fell 12-11 to the North Hills Indians at home. The loss eliminates the Tigers from postseason play.
Early on, junior Brooke Ferringer started off the scoring at 24:21. North Hills responded quickly and took the lead on goals from Mikayla Simms and Gianna Dipaolo. Ferringer then netted her second of the evening at 20:52 tying the game at 2-2. North Hills scored four straight goals to take a 6-2 advantage with 15 minutes left in the first half. Freshman Katie Oates responded on a free position at 13:31 to cut the lead in half at 6-3. Two more Indian goals from Julea Jamison and Mikayla Simms made the score 8-3 with 9 minutes left in the half. Nicole Atkinson added another goal for NA while Jamison netted a hat trick for the Indians, extending the lead to 9-4.
The Tigers then stormed back into the contest to make the score 9-8 with four straight goals from Ferringer, Ryley McCellan, Oates and Lexi McClure. With just 21 seconds left in the first, Mikayla Simms scored a hat trick for North Hills giving the Indians a 10-8 lead at the half.
In the second half, both defenses buckled down to slow the scoring pace. With 16 minutes left, Gianna Dipaolo netted her fourth goal of the game to extend the lead to 11-8. Junior Val Davis trimmed the North Hill lead to two with a goal at 14:29. Atkinson scored her second of the game at 10:32, making the score 11-10. Three minutes later Dipaolo scored her fifth of the night, extending the Indian lead to 12-10. Ferringer tallied her fourth goal with just 1:41 left giving the Tigers a chance to tie the game. With 50 seconds remaining and possession in the hands of NA, Oates drove the left lane and took a shot that was snagged by Indian netminder Maura Ruprecht. North Hills held on to possession to end the game.
Ferringer ends the season with a team leading 58 goals. Oates finishes second in scoring with 31 goals.
North Allegheny ends the season with a 4-8 record in Section 3-AAA play (7-9 overall.) North Hills heads to the playoffs in fourth place in the section at 6-6 (8-8 overall.) The Indians also earned the series sweep for the 2018 season.
Seniors Katelyn Walzer, Julia Puntil, Cassidy Heim, Anna Barton and Bethany Schreiber all earned Wright Automotive Player of the Game Honors.