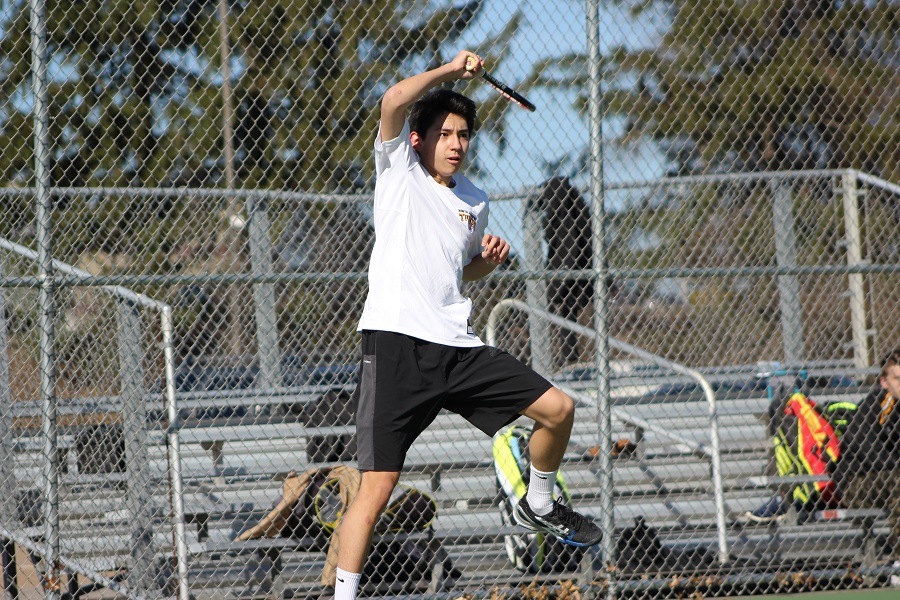 Hofmann and Voinov Advance to Section 2 Doubles Final
On a perfect spring Monday, two Tiger teams made their mark on the WPIAL AAA Section 2 Doubles Tournament. The first day of play was conducted on the NASH courts, and seniors Richard Hofmann and Ivan Voinov comprised one team while juniors Mark Chuirazzi and Jerry Huang were the second duo from North Allegheny's tennis program.  Play is single elimination in nature, and rounds one and two consisted of single, 10 game pro-sets.  In first round action, Hofmann and Voinov, the overall number two seed defeated Moon's #2 entry, Ley and Shetty, 10-3.  Also dominating in round one, Chuirazzi and Huang (#4 seed) defeated Ryan and Crowley of Mars, the #2 entry from the Planets.
The quarterfinals saw Chuirazzi and Huang fall to Abeet Badrinath and Tim Miller, the 5th seeds and Hampton's #2 entry.  Meanwhile, Hofmann and Voinov dispatched Seneca Valley's Steve Vandrak and Jeremy O'Connor to advance to the semi-finals.  In that semi, the NA duo tangled with Logan D'Angelo and Nick Mangelli of Moon, the overall 3rd seed and Moon's primary team. After several early breaks, Hofmann and Voinov prevailed 6-1 in the first.  The second set started similarly, but the Moon Tigers fought hard and made a battle of it late before the NA Tigers held on to win in straight sets.
Hofmann and Voinov now advance to the championship match Tuesday afternoon against Ted Donegan and Ben Ringeisen of Hampton, the overall #1 tournament seed. Match time is set for 2:00 PM on the NASH courts.
WPIAL AAA Section 2 Doubles (Day 1—May 7, 2018)
Round One
Richard Hofmann/Ivan Voinov (NA) def. Ley/Shetty (Moon) 10-3
Mark Chuirazzi/Jerry Huang (NA) def. Ryan/Crowley (Mars) 10-2
Qtr. Finals
Richard Hofmann/Ivan Voinov (NA) def. Steve Vandrak/Jeremy O'Connor (SV) 10-1
Abeet Badrinath/Tim Miller (H) def. Mark Chuirazzi/Jerry Huang (NA) 10-6
Semi-Finals
Richard Hofmann/Ivan Voinov (NA) def. Logan D'Angelo/Nick Magnelli (Moon) 6-1, 6-2
Ted Donegan/Ben Ringeisen (H) def. Abeet Badrinath/Tim Miller (H) 6-0, 6-2