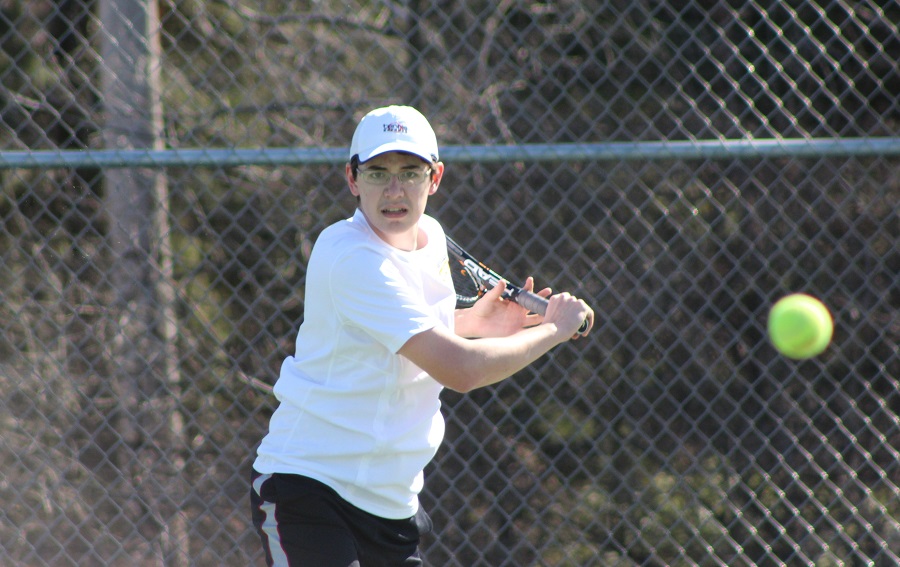 Hofmann, Voinov Reach Section Two Semifinals
On day one of the Section Two Doubles Tournament, juniors Richard Hofmann and Ivan Voinov along with sophomores Mark Chuirazzi and Jerry Huang represented the Tigers.  As play began Monday afternoon on the NASH courts, Hofmann and Voinov were the number one seeds while Chuirazzi and Huang were the six seeds.  Both teams dominated in the first round as Hofmann and Voinov dispatched Mars number two team 10-0 while Chuirazzi and Huang took down Hampton's number two team 10-1.  The quarterfinal round saw mixed results for the Tigers.  Hofmann and Voinov toppled the number one Butler team of McMaster/Errington 10-0 while Chuirazzi and Huang fell to Pine-Richland's number one duo, Vinarski/Iyer 10-4.  Vinarski and Iyer entered as the third seeds.
Advancing to the semi-final round, Hofmann and Voinov played the talented Hampton duo of Ted Donegan and Ben Ringeisen, the fourth seeds. Hampton dominated the first set 6-2.  Playing sharply, the Tigers had their opportunities in the second but could not fashion enough breaks to turn the tide, falling 6-4.  With their advancement to the semi-final round, Hofmann and Voinov received an automatic berth in the WPIAL Doubles Tournament to be played later in the week.  Hampton's Ringeisen and Donegan will play Pine-Richland's Vinarski and Iyer in the Section Two championship match Tuesday afternoon.  The Tigers' Hofmann and Voinov will compete against Moon's D'Angelo and Magnelli for the third place slot.  Starting time for both matches Tuesday afternoon will be 2:15 PM on the NASH courts.
Match Results – May 8, 2017
WPIAL AAA Section Two Doubles Tournament
First Round
Richard Hofmann/Ivan Voinov (NA) def. Jack Kepreos/Michael Crowley (Mars) 10-0
Mark Chuirazzi/Jerry Huang (NA) def. Kurt Mueller/Tim Miller (Hampton) 10-1
Quarterfinal Round
Richard Hofmann/Ivan Voinov (NA) def. Matt McMaster/Nate Errington (Butler) 10-0
Ben Vinarski/Sid Iyer (P-R) def. Mark Chuirazzi/Jerry Huang (NA) 10-4
Semifinal Round
Ben Ringeisen/Ted Donegan (Hampton) def. Richard Hofmann/Ivan Voinov (NA) 6-2, 6-4