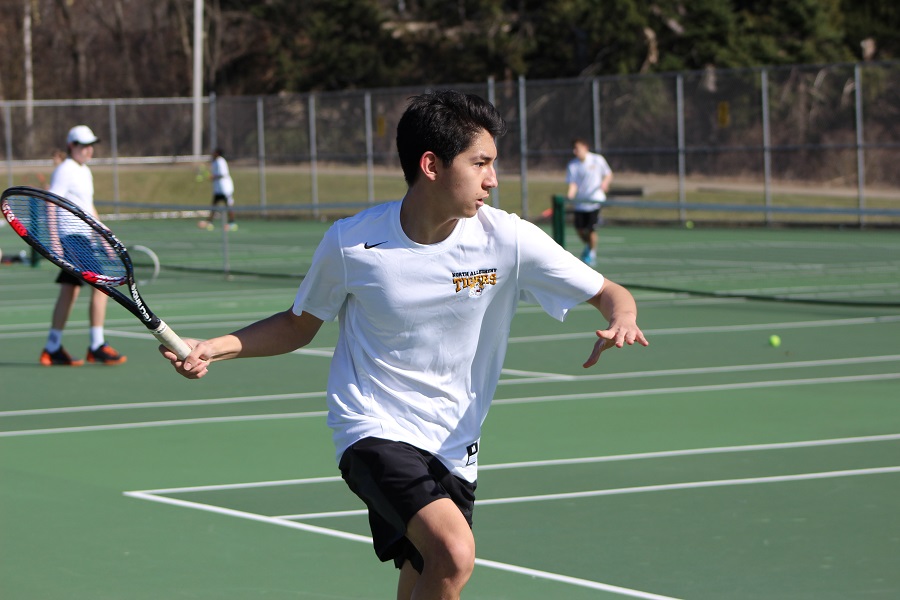 Indians Tame Tigers in Exhibition Play
On a clear and sunny Thursday afternoon, the Peters Township Indians from Section 4 traveled to Wexford to tangle with the Tigers who resumed exhibition play at home.  The talented, senior-laden Indians found their stride quickly on the way to a 4-1 victory over North Allegheny.  The match marked the varsity debut of sophomores Soureesh Moturi and Rohan Cowlagi who competed well at number two doubles for the Tigers.
The highlight of the Tigers' performances came at number one doubles, where juniors Mark Chuirazzi and Jerry Huang defeated Nathan Wang and Ethan Farmer in straight sets.  The Tiger duo patiently established control of the match with efficient serving coupled with outstanding  shot selections.  With the loss, North Allegheny falls to 1-3 on the young season after four exhibition matches. The Tigers look to find a winning formula as they begin Section 2 play next week at Seneca Valley on Monday afternoon.  The match with the Raiders is scheduled for a 3:30 PM starting time.
Match Summary
03/23/2017
Peters Township–4 North Allegheny—1
Singles
#1  Connor Bruce (PTRS) def. Richard Hofmann (NA) 6-1, 6-3
#2  Ryan Farrell (PTRS) def. Ivan Voinov (NA) 6-4, 6-4
#3  Miguel Ascenzio (PTRS) def. Andrew Chuirazzi  (NA) 6-3, 6-1
Doubles
#1  Mark Chuirazzi/Jerry Huang (NA) def. Nathan Wang/Ethan Farmer (PTRS) 6-3, 6-2
#2  Anthony Castellone/Joe Grzyb (PTRS) def. Soureesh Moturi/Rohan Cowlagi (NA) 6-4,  6-3