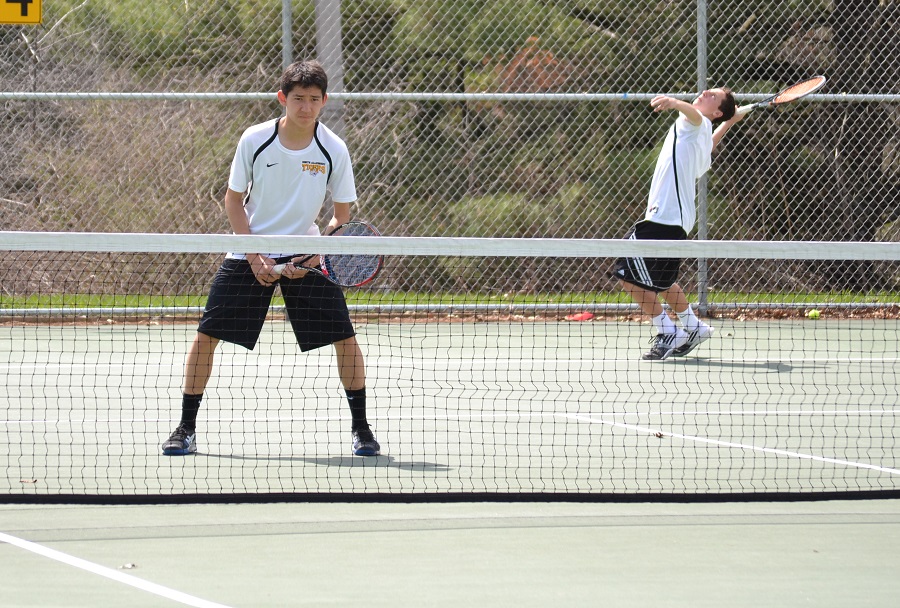 Isaacs, Hofmann Reach WPIAL Doubles Championship
On a rainy Monday, the WPIAL Doubles Tournament moved indoors to The Club at Monroeville, and when day one ended junior Jared Isaacs and freshman Richard Hofmann reached the championship round and also qualified for the PIAA Championship in Hershey, PA on May 22. Senior Eric Huang and junior Andrew Xu came close to joining their teammates in the semi-finals but fell just short on a day of outstanding tennis by the NA competitors.
Isaacs and Hofmann were seeded 3rd in the tourney and advanced to the semi-finals by beating Fox Chapel's #1 squad in the preliminary round and Mt. Lebanon's #2 squad in the quarterfinal round. From there they took on Mt. Lebanon's #1 duo of senior Dane Bendel and junior Charlie Strohl in the semis and won a hard fought, three-set match to reach the championship.
Huang and Xu, defeated Shady Side's #2 team of Derek Chen and Naveen Jain in the preliminary round, but then fell in the quarters after stretching Mars' number one team by a 4-10 score.
Isaacs and Hofmann will take on the Mars team of Josh Raymundo and Aaron Gruber Tuesday afternoon at 2 PM at Norwin High School for the WPIAL championship. This will be a rematch of last week's Section 2 Doubles Championship match
North Allegheny Summary –AAA WPIAL Doubles Championship–Day One (4-20-15)
Preliminary Round
Jared Isaacs (NA) def. Tom Fennell/Kurran Singh (FC) 10-5
Eric Huang/Andrew Xu (NA) def. Derek Chen/Naveen/Jain (SSA) 10-6
Quarterfinal Round
Jared Isaacs (NA) def. Christian Vietmeier/Ian McCabe (Mt. Leb.) 10-1
Josh Raymundo/Noah Gruber (Mars) def. Eric Huang/Andrew Xu (NA) 10-4
Semifinal Round
Jared Isaacs/Richard Hofmann (NA) def. Dane Bendel/Charlie Strohl (Mt. Leb.) 6-1, 6-7 (3), 6-1