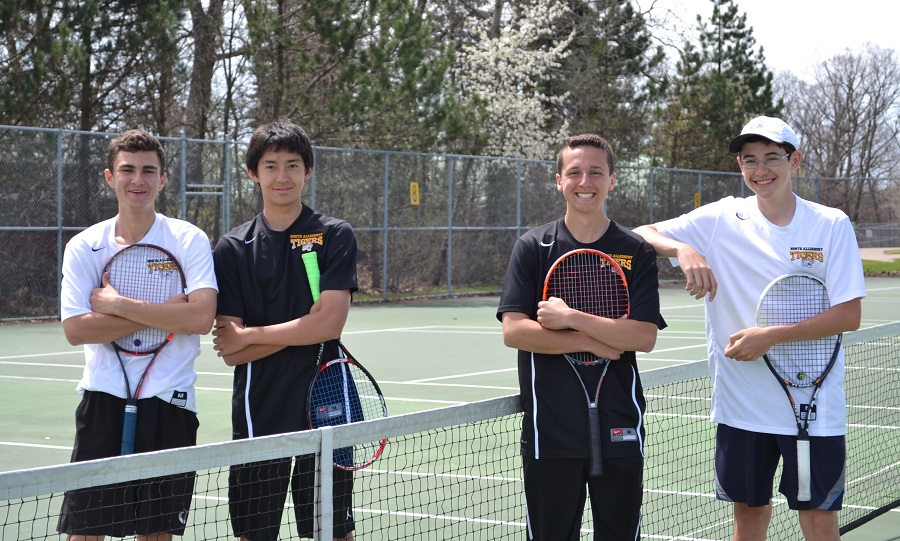 Isaacs, Hofmann Storm Way to WPIAL Championship Match
The WPIAL AAA Doubles Championship Tournament began play Monday afternoon at Norwin High School, and when the competition ended, senior Jared Isaacs and sophomore Richard Hofmann found themselves in the championship match for the second consecutive year.
Play began with the NA duo of sophomores Andrew Chuirazzi and Ivan Voinov (seeded 11) challenging the 6th seeded duo of Rochan Ramesh and Connor Warwick of Franklin Regional in the first round.  The Tigers started slowly, clearly regained their momentum, and nearly pulled the upset before falling 10-8. Isaacs and Hofmann played a total of 34 games during their matches and won 32.  They beat Hempfield's duo (#16 seed) 10-0 in the first round and Upper St. Clair's duo (#9 seed) in the quarterfinal match.  The semi-final match pitted Isaacs and Hofmann, the number one seed in the competition, against the #4 duo of Cooper Kann and Michael Kann of Shady Side Academy.  The match was one sided as the Tigers dominated from the start, regularly breaking the Shady Side team's serve in the straight set match.
The Tigers will travel to Shady Side Academy Tuesday afternoon to take on Shady Side's second team, the 7th ranked duo of Naman Dua and Tanay Kumta, in the WPIAL Championship match which is scheduled for 2 PM.  This is the third consecutive WPIAL Doubles Championship match for Isaacs.  Both he and Hofmann have now qualified for the PIAA Doubles Championship in Hershey on May 27 and 28.
North Allegheny Summary – WPIAL AAA Doubles Championship –Day 1 (4-25-16)
First Round
#1 Jared Isaacs/Richard Hofmann (NA) def. #16 Mason Harbaugh/Chase Pastor (Hempfield) 10-0
#6 Rochan Ramesh/Connor Warwick (FR) def. #11 Andrew Chuirazzi/Ivan Voinov (NA) 10-0
Quarterfinal Round
#1 Jared Isaacs/Richard Hofmann (NA) def. #9 Scott Russell/Liam Gibbons (USC) 10-0
Semi-Final Round
#1 Jared Isaacs/Richard Hofmann (NA) def. #4 Cooper Kann/Michael Kann (SSA) 6-1, 6-1