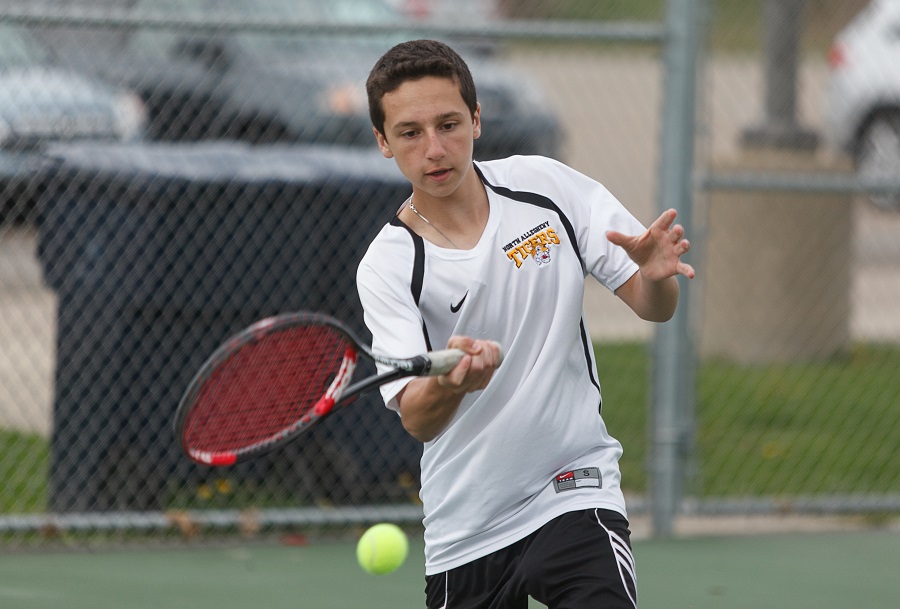 Jared Isaacs Reaches Section 2 Singles Semifinals
Two rounds of play were completed at the Lakevue Athletic complex Monday afternoon as the AAA Section 2 Singles Tournament commenced in search of the 2015 champion. Junior Jared Isaacs and freshman Richard Hofmann represented the Tigers out of the number one and seven seeds respectively.
Jared defeated Ted Donegan of Hampton 10-0 in the opening round while Richard defeated Ryan Becker of Moon 10-0 in the same round.  The quarterfinal matches saw Jared defeat Aaron Gruber of Mars 10-1 while Richard fell to Ben Vinarski of Pine-Richland 10-6 in a tight, hard hitting contest.
Jared will move on to play Logan D'Angelo of Moon in the semifinals Tuesday afternoon, also at Lakevue starting at 1 PM.  The other semi will pit PR's Vinarski against Mars' Josh Raymundo.  Congratulations to Jared and Richard for their strong representation of the Tigers tennis program!
North Allegheny Summary –AAA Section 2 Singles Championship (3/30/2015)
Round One
#1 Jared Isaacs (NA) def. #17 Ted Donegan (Hampton) 10-0
#7 Richard Hofmann (NA) def. #10 Ryan Becker (Moon) 10-0
Quarterfinals
#1 Jared Isaacs (NA) def. #8 Josh Gruber (Mars) 10-1
#2 Ben Vinarski (PR) def. #7 Richard Hoffman (NA) 10-6