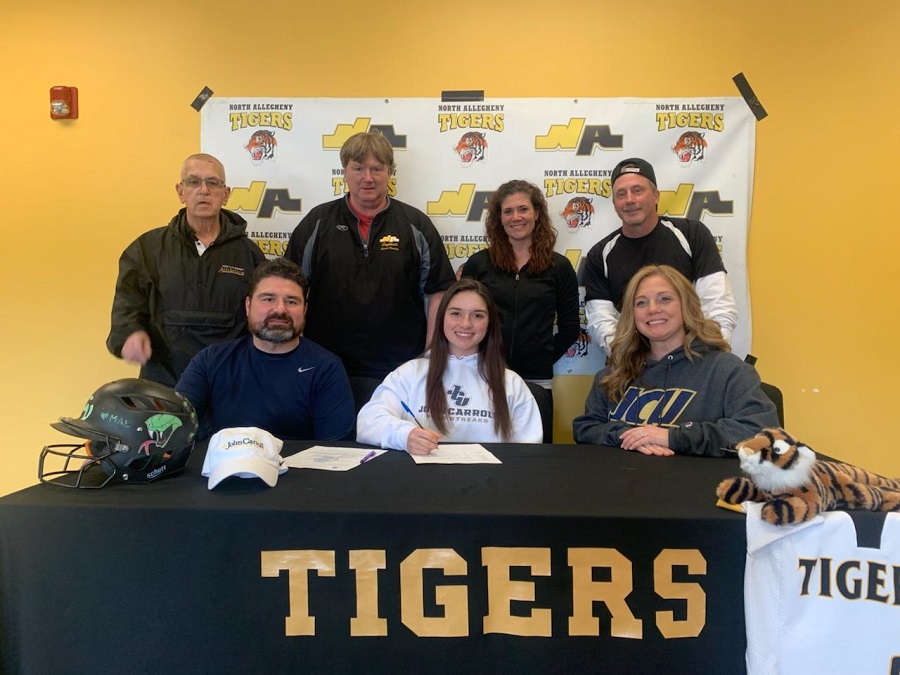 Kendall Trunzo Signs LOI With John Carroll University
North Allegheny senior Kendall Trunzo recently signed her letter of intent to continue her softball and academic career at John Carroll University.
Due to the COVID 19 pandemic, Trunzo didn't have an opportunity to play in 2020. During her sophomore season in 2019, Trunzo made her varsity debut at North Allegheny and played in 17 games for the Tigers. She finished fourth on the team with 14 runs scored, to go along with a .214 batting average, three RBI and five walks.
"I'm really excited for the upcoming season and being able to take on the senior leadership role," said Trunzo at her signing. "I'd like to thank my parents, travel team coaches, Mike Harris and Sam Hartzber, and the whole NA softball organization. I'm excited to continue my softball career at John Carroll."
At JCU, Trunzo will double major in Criminology and Accounting. She is pictured above with her parents Molly and Jim Trunzo, North Allegheny head coach Morgan Vescovi, assistant coaches Warren Pirring and Rick Meister, and JV head coach Bill Mislan.