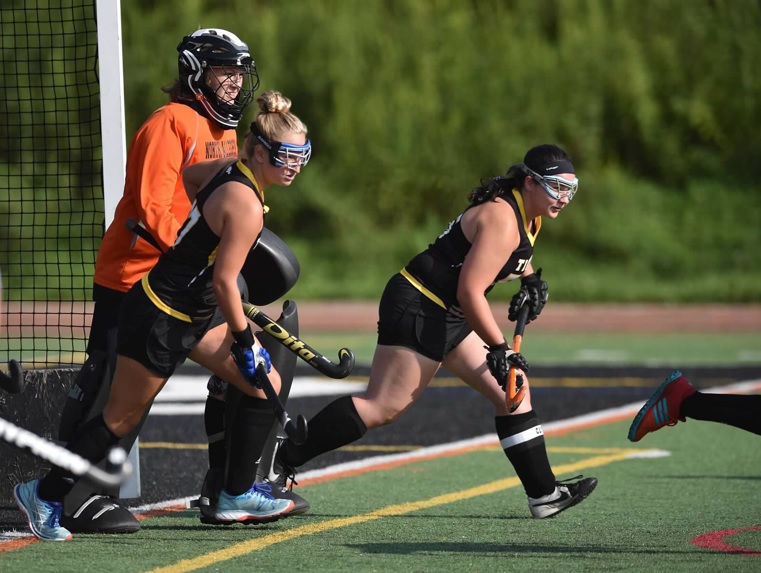 Lady Tigers Compete At Palmyra Cougar Classic
Facing a pair of powerhouse teams from the east, the North Allegheny field hockey team took part in the Palmyra Cougar Classic on Saturday. The Tigers dropped the opener to host Palmyra, 4-0, and fell to Warwick in the consolation contest, 4-1.
The first game between NA and Palmyra was a defensive struggle and remained scoreless through one half of play. In the second half, Palmyra pulled away with goals from Nicole Shank, Nora Simmons, Anna Miller and Lauren Wadas.
The Tigers took on Warwick in the Cougar Classic consolation game.  North Allegheny took the early lead with a goal by sophomore Ella Strzempek, assisted by senior Angie Genter, just 3:15 into the game. Warwick managed to tie the game at 1-1 with 13:29 to go in the half on a marker by Kate Dickow. Warwick was able to swing the pendulum in its favor with two goals in the waning minutes of the first half. Rylee Diffenderfer scored with 2:32 left and Leah Garybill scored with only one second remining in the half for a 3-1 Warwick advantage. Caitlyn Grodzicki added one more goal in the second half to bring the final score to 4-1, Warwick.
Following the tournament, North Allegheny slips to 6-4 overall on the season. The Lady Tigers return to section play on Thursday at 5:00 p.m. with a battle against rival Fox Chapel. The game will be broadcast live via the internet on the North Allegheny Sports Network.