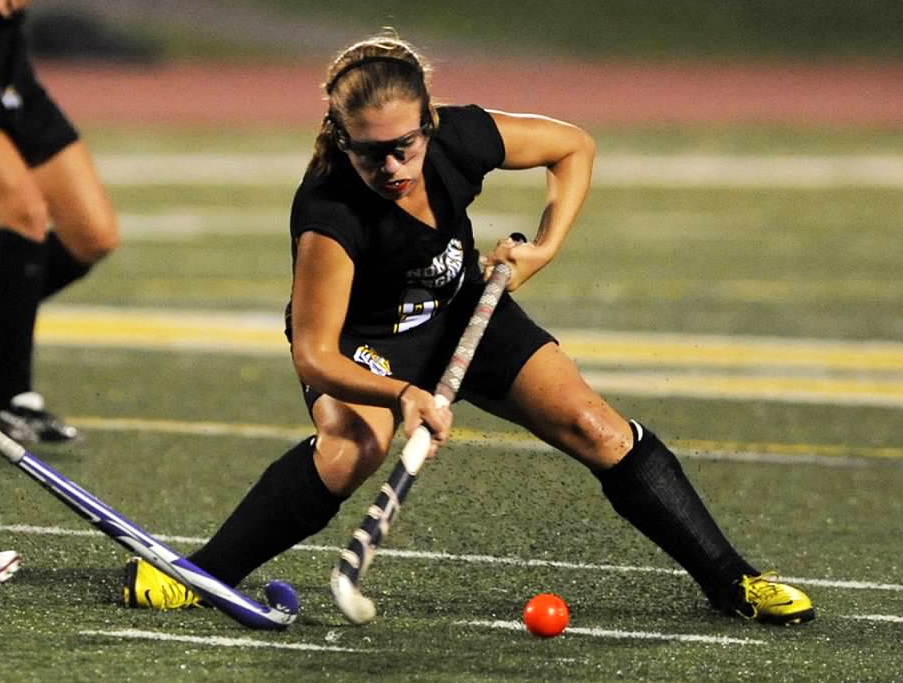 Lady Tigers Crush Central York, 5-1
by Carla Brandon
Putting their first game behind them, the NA team regrouped in the second game, beating Central York 5-1 by moving the ball better, making accurate passes, and winning the individual battles.  The Tigers gained momentum early on and maintained a high level of play throughout much of the match.  Junior Nicole Burns opened up the scoring on a corner hit from junior Kailey Vogl.  NA's team play was made evident by precise passing that resulted in assists awarded on each of the NA goals.  Vogl would tally the next goal on an assist from junior Jessica Brandon who forced the ball into defensive territory, dribbling around several midfielders and defenders, and passing the ball to Vogl who drew the goalie out, then blasted her shot from just inside the circle.  The half would end with the Tigers up 2-0.
The second half would be a continuation of the Tigers moving the ball and controlling the midfield, connecting on three additional goals.  Sophomore Maddy Snyder took the third goal on a beautifully executed play following a strong cross from the left side of the circle.  As if destined for the net, the ball was tipped first by senior Bre Monnin, then by Snyder, who tallied the goal to put NA ahead 3-0.  Vogl would register two more goals for the hat trick.  The first followed another Brandon possession, as she raced down field and crossed the ball directly to Vogl who appeared to tap the ball several times before it caromed into the net.  The final NA goal resulted from a penalty corner during which junior Hannah Downing took a quick shot from the top of the circle that was knocked in by Vogl to wrap up the tiger scoring.  The lone goal by York had occurred in a momentary lapse of dominance, when NA failed to clear the ball from the defensive zone.  Juniors Kendra Downey and Abby Genter offered solid defensive play in the match, as did sophomore Catie Kelly at midfield.  Goalies Mendenhall and Smith also continued to perform well. 
The Tigers come away from the tournament with a hint of the strength of eastern field hockey programs.  NA faces section rivals Hempfield and Norwin away on Monday and Tuesday, respectively. Game times for both matches is 7:30 (jv 6:00.)  The Tigers will travel to the east again next Saturday to face 2012 State Champions, Lower Dauphin.
Field Hockey Summary vs. Central York
| GAME SUMMARY | | | |
| --- | --- | --- | --- |
| SCORE BY HALVES | 1 | 2 | FINAL |
| North Allegheny | 2 | 3 | 5 |
| Central York | 1 | 0 | 1 |
Field Hockey Individual Scoring vs. Central York
| INDIVIDUAL STATS | | |
| --- | --- | --- |
| FIRST HALF | | |
| North Allegheny | Nicole Burns (Kailey Vogl) | 5:45 |
| North Allegheny | Vogl (Jessica Brandon) | 20:50 |
| SECOND HALF | | |
| North Allegheny | Maddy Snyder (Bre Monnin) | 0:32 |
| North Allegheny | Vogl (Brandon) | 16:42 |
| Central York | N/A | 23:04 |
| North Allegheny | Vogl (Hannah Downing) | 26:34 |