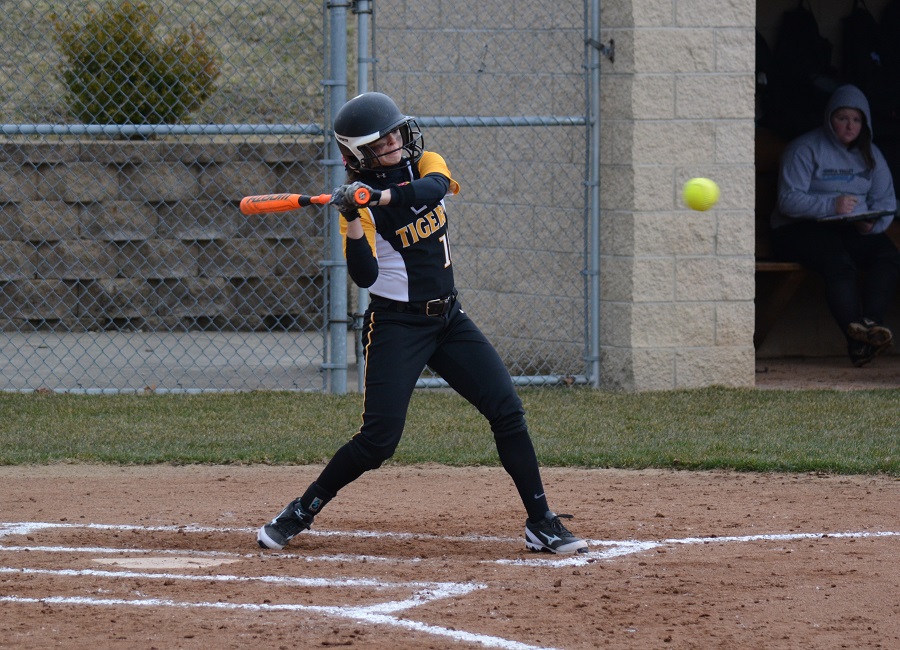 Lady Tigers Vanquish Raiders For Thrilling 3-2 Victory
North Allegheny built a three-run lead early and hung on late for a 3-2 victory in Section 3-AAAA play over the Seneca Valley Raiders on Tuesday afternoon. The Tigers lineup was paced by senior outfielder Mackenzie Gostomski who used her tremendous speed to leg out three infield singles, part of a 3 for 4 day at the plate.  Gostomski stole two bases, drove in one run and scored another to earn Wright Automotive Player of the Game honors.
North Allegheny opened the scoring in the bottom of the first inning and was sparked by a lead-off walk by Laura Cotter.  After moving to second on a passed ball, Cotter advanced to third on a Gostomski infield single.  Moments later, Gostomski stole second base to put runners at second and third with nobody out.  Junior pitcher Madi Beining helped her own cause by driving home Cotter with an RBI groundout to third and the Tigers led, 1-0.  An out later, Emily Hogan delivered a clutch two-out RBI single to score Gostomski and the score was 2-0, North Allegheny.
In the second inning, it appeared that Seneca Valley pitcher Nikki Matz would quickly retire the Tigers with a 1-2-3 frame.  However, Matz plunked Olivia Schweiger with two outs to keep the inning going.  Cotter rolled a routine ground ball to third baseman Ashley Kappeler but her throw to first was high and moved Schweiger to third and Cotter to second base. As she did in the first inning, Gostomski rolled a ground ball to short and hustled up the first base line for an infield single, this time driving home Schweiger and the Tigers lead stretched to 3-0.
The Tigers had a chance to blow the game open in the third inning with runners at second and third and nobody out, but Matz buckled down to strike out back-to-back batters and ultimately wiggled out of the jam to keep Seneca Valley in the game.  Raiders' centerfielder Jess Neil rewarded Matz in the top of the fifth inning with a two-out, two-run double to trim the Tigers lead to 3-2.
Seneca Valley had additional chances to tie the game in the final two innings but was stonewalled by Beining who stranded six Raiders baserunners in the game and struck out eight batters. Of her eight strikeouts, none were bigger than the last two of the day as they obtained the final two outs of the contest.
Tori Pfab led off the top of seventh inning for Seneca Valley with a double and was sacrificed to third on a bunt by Maddie Schultz.  With the game tying run just 60 feet away from home plate, Beining punched out Neil and Marie Marnik back to back for a thrilling, 3-2, North Allegheny victory.
Along with Gostomski's fine day at the plate, Hogan was 2 for 3 with an RBI and a stolen base.  In the pitcher's circle, Beining earned the win with a complete game effort and scattered seven hits.
The Lady Tigers jump to 2-0 overall and in Section 3-AAAA action.  Seneca Valley drops to 1-1 overall and in section play. North Allegheny is slated to face the Butler Golden Tornado on the road this afternoon at 4:00 pm.
Line Score - NA Softball vs. Seneca Valley, 3/31/15
| Score by Innings | 1 | 2 | 3 | 4 | 5 | 6 | 7 | | R | H | E |
| --- | --- | --- | --- | --- | --- | --- | --- | --- | --- | --- | --- |
| Seneca Valley | 0 | 0 | 0 | 0 | 2 | 0 | 0 | | 2 | 7 | 1 |
| North Allegheny | 2 | 1 | 0 | 0 | 0 | 0 | X | | 3 | 8 | 0 |
WP - Madi Beining (2-0) LP - Nikki Matz