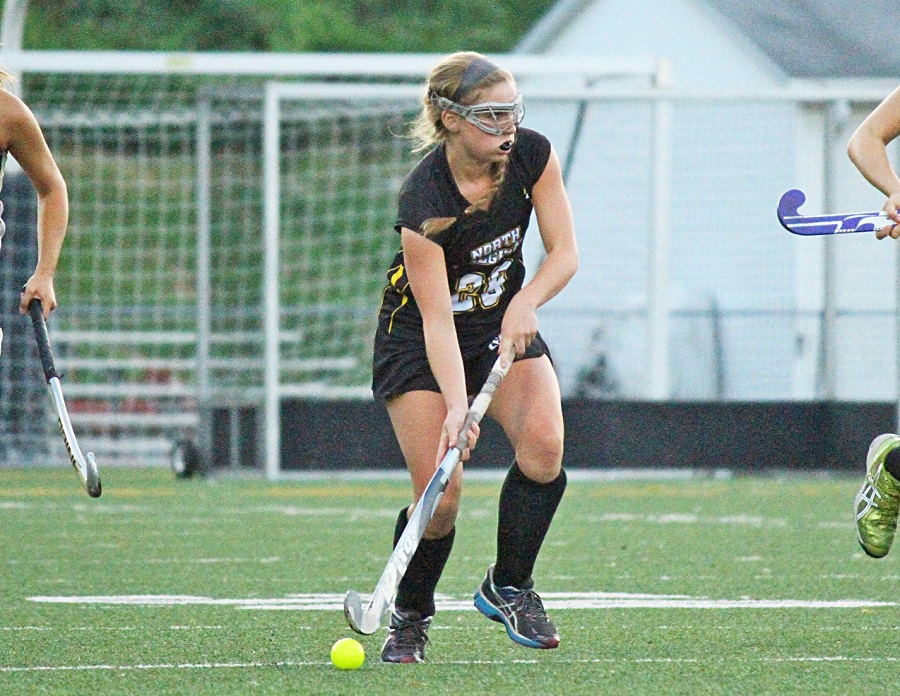 Lady Tigers Outduel Knights
The Tigers defeated Norwin on Wednesday in a flurry of offense, neutralizing the Knights 8-0 and posting their second shutout in five days.  NA's midfield and defense left goalies Isley Smith and Katie Shideler secluded in their home net as the knights managed to register only one shot on goal.
With the game only four minutes old, NA was off and running when senior midfielder Hannah Downing unloaded a driving shot that skidded toward the net and was backhanded in by senior forward Jessica Brandon.  The goal was the first of four that were scored on penalty corners.  Just two minutes later, the Tigers were awarded another corner that allowed senior midfielder Megan Guzzardi to tally her first of two goals.  Brandon passed back to Guzzardi, who drove the ball from the top of the circle, through traffic and past the Norwin goalie, who was attacked all evening, but eventually blocked seventeen NA shots.  After another two minutes, Guzzardi would score again on another penalty corner.  Downing shot the ball forward to senior forward Kailey Vogl who deflected it beyond the defender and onto Guzzardi's stick, where she took one step and fired the ball into the net.  Vogl would register the assist.  The final goal of the half came on a delayed whistle following a Norwin infraction within the circle.  Senior midfielder Nicole Burns took possession of the ball at the top of the circle and blasted a shot into the net to put the Tigers up 4-0.
The NA offense struck again just one minute into the second half, on yet another penalty corner.  Guzzardi would take a shot from the circle that was redirected by junior Maddy Snyder's well-placed stick to advance the Tigers to 5-0.  Brandon would add her second goal of the game with roughly 23 minutes remaining, following a shot from senior Alyssa Leonard.  The goalie cleared the ball in Brandon's direction, and she knocked it forward toward the post, then picked it up and scored on a wrist shot.  Leonard would make her mark just after the ensuing faceoff, when Vogl and Snyder took turns moving the ball quickly upfield, where Vogl found Leonard open in front of the net.  Leonard skirted forward and took advantage with a strong shot left of the goalie, for her first of two goals on the night.  The Tiger defenders were then moved forward where they dealt themselves several good scoring chances but were unable to capitalize.  However, once back on the forward line, Leonard wasted no time tallying her second of the game.  Downing drove the ball toward the goalie and Leonard buried the shot from the left side, ending the scoring at 8-0 with one minute remaining in the game.
The Tigers host Penn-Trafford on Monday night at 7:30 (JV 6:00) at Newman Stadium.
Field Hockey Summary vs. Norwin
| GAME SUMMARY | | | |
| --- | --- | --- | --- |
| SCORE BY HALVES | 1 | 2 | FINAL |
| North Allegheny | 4 | 4 | 8 |
| Norwin | 0 | 0 | 0 |
Field Hockey Individual Scoring vs. Norwin
| INDIVIDUAL STATS | | |
| --- | --- | --- |
| FIRST HALF | | |
| North Allegheny | Jessica Brandon (Hannah Downing) | 3:49 |
| North Allegheny | Megan Guzzardi (Brandon) | 6:15 |
| North Allegheny | Guzzardi (Kailey Vogl) | 8:29 |
| North Allegheny | Nicole Burns | 27:04 |
| SECOND HALF | | |
| North Allegheny | Maddy Snyder (Guzzardi) | 1:15 |
| North Allegheny | Brandon | 6:45 |
| North Allegheny | Alyssa Leonard (Vogl) | 8:00 |
| North Allegheny | Leonard (Downing) | 29:00 |