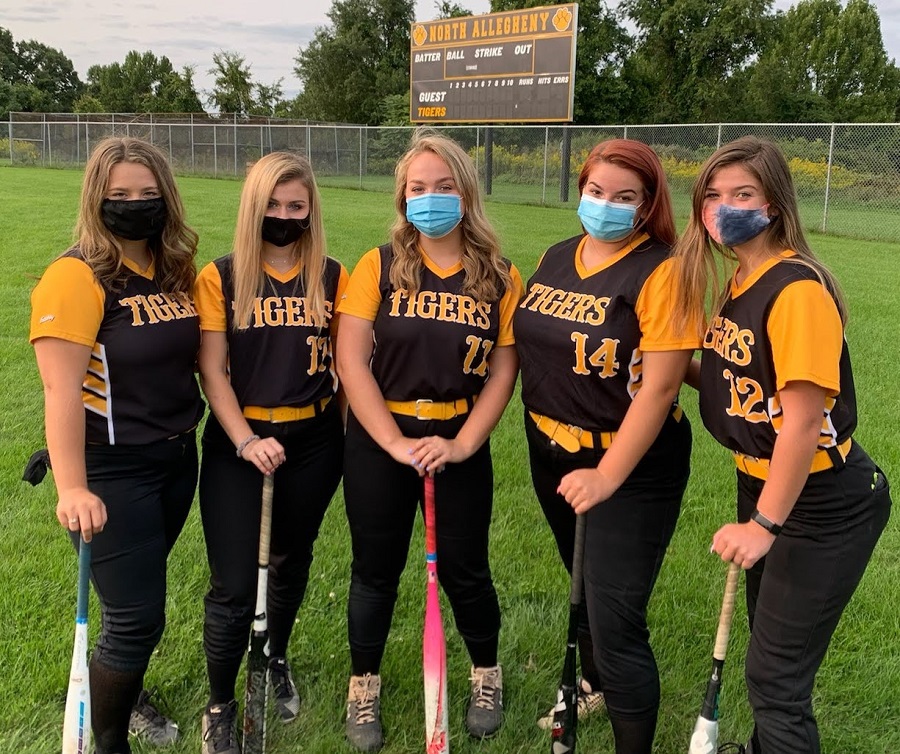 Lady Tigers Walk off Game 1, Fall in Game 2 against Plum
by Jonathan Spina
NA erased a six-run deficit in game one to win 16-12 but fell in the second game by a score of 18-8 in a weekend double header contest against Plum at Marshall Middle School on Senior Day.
In game one, the Tigers fell behind 4-0 in the second inning but two runs in the bottom of the second and then a two out, bases clearing double by Katie Marangoni gave the Lady Tigers their first lead of the day 5-4. Plum responded by giving themselves a 12-6 lead heading into the bottom of the fifth but NA was able to cut the lead to 12-11 heading into the bottom of the seventh. Lizzie Wetmore tied the game with a lead off home run, Marangoni doubled, Madi Klinefelter walked, Emily Yanchak singled and then Audrey Laswell hit a walk off grand slam to give North Allegheny the 16-12 win.
Marangoni was named the Wright Automotive Player of the Game in the first game, going 4-for-4 with four RBIs and two doubles. Claire Medic had three hits and Nikki Crean, Evelyn Wiethorn and Sydney Besket all added two hits each.
In game two, the Lady Tigers carried the momentum over with a three-run top of the first but Plum responded by scoring eight runs in the next two innings, giving them the 8-4 lead. The game stayed close throughout but with a slim 9-8 lead heading into the bottom of the fifth, Plum was able to score nine runs in the inning and win the game 18-8 to invoke the 10-run rule.
For her efforts, Wetmore was named the Wright Automotive Player of the Game, going 1-for-3 with a home run, her second of the day. Klinefelter and Medic each had two hits in the game.
North Allegheny's record is now 7-1 while Plum goes to 5-5. Up next for the Lady Tigers will be a road trip to Graham Park in Seneca Valley to take on the Raiders next Sunday at 4 p.m. and 6 p.m.