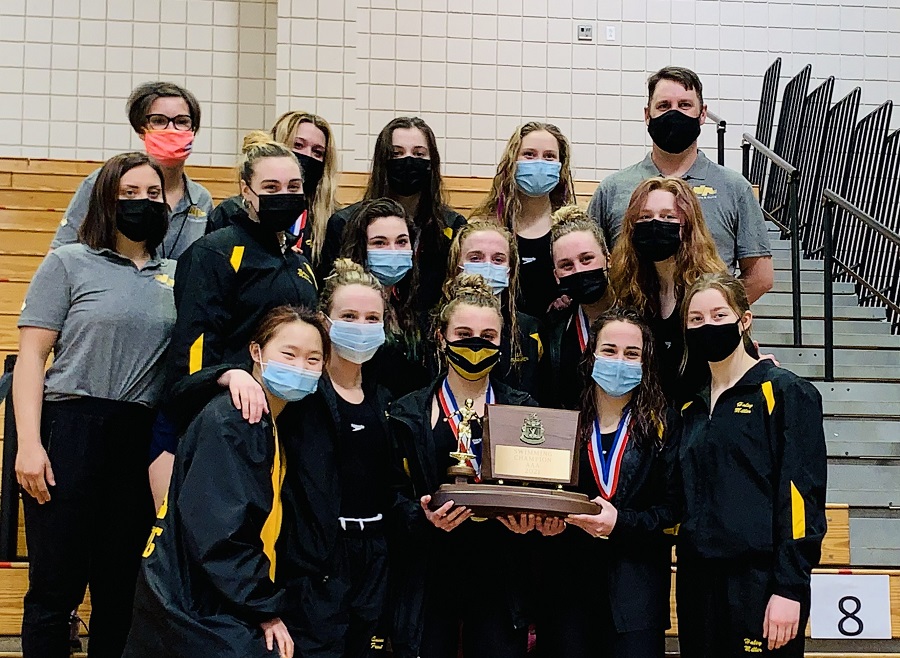 Lady Tigers Win 13th Consecutive WPIAL Crown, NA Boys Place 3rd
The North Allegheny Swimming Team competed in the WPIAL Swimming Championships at Upper St. Clair High School in record fashion, with the Lady Tigers winning the WPIAL title for the thirteenth straight year, and the Boys team finishing in third place. The NA Boys have won 14 out of the last 16 WPIAL titles
The NA Girls won with a score of 425, finishing 96 points ahead of second-place Seneca Valley High School.  The boys came in third place with a score of 227.5, 49 points behind first-place Upper St. Clair.
The NA Girls started off the meet with high place finishes for the 200 Free, with Lexi Sundgren taking second, and Molly Smyers taking first and Olivia Kisow touching third in the 200 IM. The relay team of Smyers, Kisow, Ella Ogden and Quinn Frost took third in the 200 Medley Relay. Freshman swimmer Natalie Sens finished second in the 50 Free while Frost took sixth. Lady Tiger swimmer Ogden finished second on the 100 Fly. Sundgren finished second in the 100 Free and in the 500 Free Smyers finished first with Kisow finishing third. The Lady Tigers finished the day winning the 400 Free Relay with the team of Smyers, Isabella Dietz, Kisow, and Sundgren.
The NA Boys came out strong taking second place in the 200 Medley Relay with the team of William Gao, Jacob McCarran, Timothy Compton and Matthew Turzai. Compton finished 5th in the 100 Fly. Compton also finished 5th and the 500 Free while Zachary Jubeck finished sixth. McCarran placed second in the 100 Breaststroke. The Tigers relay team of Turzai, Tyler Tieppo, Compton and Jubeck finished fourth in the 400 Free Relay.
The qualifiers for the PIAA Swimming and Diving Championships will then travel to Cumberland Valley High School in Mechanicsburg, PA. The meet is scheduled to be on Saturday, March 20, 2021.