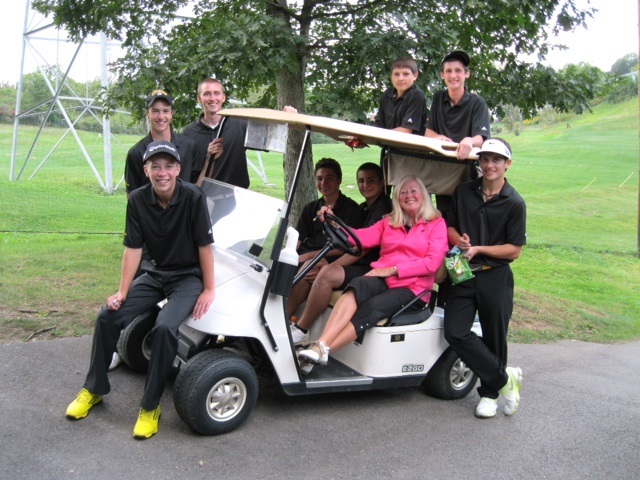 Longtime NA Boys Golf Coach Dede Rittman Retires
courtesy of the Pittsburgh Post-Gazette (by Joe Koch)
Dede Rittman thought for a moment and chuckled.
"I turn 62 next month and I've taught and coached for more than half of my life," said the longtime North Allegheny High boys golf coach.
Rittman now refers to both careers in the past tense. After retiring from teaching in 2011 to look after her husband Scott who subsequently died from colon cancer, Rittman continued to coach the Tigers' boys golf team for an additional three seasons. Her last official act as coach was addressing her team and the players' parents and relatives at the golf team's banquet this past Tuesday night.
"It has been a great ride," she told her players. "I still love golf, and I still love my players, but the time has come for me to move on and for (junior varsity) Coach (Pat) Niven to move up."
Niven moves up after coaching the boys junior varsity team for 14 years.
"I think he's ready," she said.
Rittman also believed the time to step down was now as this senior class of golfers was the last group that knew her husband, so it was best to make a clean break with this team. Rittman was a highly successful coach at North Allegheny. In the six years she coached the girls team from 1979 to 1984, the Tigers had a record of 23-20. She coached the boys team from one season in 1985, and then took over the program in 1989, a role she held until the end of the 2014 season. Rittman-coached teams won 12 section championships and her career record as the boys coach was 322-96.
In addition to teaching English and coaching golf, Rittman was either assistant director or director of the North Allegheny Spring Musical for 10 years. She chose the fabrics and designed costumes for the shows, winning a Gene Kelly Award in 1991 for the Best Costume Design for "My Fair Lady."
Rittman also the Intermediate School's Talent Show for many years, and shared her theatrical advice with other school districts. She also was involved with the school's Student Council, the Dance Club and the Calligraphy Club. She also was involved with professional organizations dedicated to education. As busy as Rittman was as an educator and a coach, that dedication has been transferred to a new vocation: book author.
Rittman has written "Student Teaching: The Inside Scoop from a Master Teacher."
"The book details everything you need to know as a new teacher or a student-teacher along with everything else in life," she said. "In this book, I stress the three C's: confidence, communication and creativity."
Rittman is working on a second book that is designed for young children. Entitled "Grady Gets Glasses," the book details the exploits of Grady, a young rabbit who must wear glasses and addresses the concerns young people might have when they are informed that eyeglasses are beneficial for a youngster. Rittman said a plush rabbit depicting Grady with a pair of glasses will be sold with each book.
Rittman is continuing to play golf and is active in the West Penn Golf Association as a rules official and with the Women's Golf Association of Western Pennsylvania as its Standing Rules Chair. Rittman also is a member of the First United Presbyterian Church's choir in Tarentum. Rittman said high standards were expected from her students and athletes at North Allegheny, and the same was expected from the teachers.
"The parents had high expectations, just as I did," she said. "The kids wanted to learn, and they wanted to win."
Rittman affected thousands of students and student-athletes in a career that spanned more than three decades.
"It mattered how the kids played, but what mattered more is that I wanted them to succeed beyond North Allegheny," she said. "I would do whatever I could for these kids and that included writing recommendations."
Several of those student-athletes stood out for her. Two of her most recent players were favorites: Kevin O'Brien and John McCabe. She called O'Brien the best player she ever coached, and he's now competing at Seton Hall in South Orange, N.J. McCabe has autism, but he thrived as a golfer and now competes for the Community College of Allegheny County's-North Campus golf team.
"I never considered John disabled, and neither did he," she said of McCabe. "He loves golf more than life itself, and he's just thriving at CCAC."
Other favorites included Grant Martens and Matt Simone, who are working as engineers at Titlist and Ping, respectively.
Molly Baney, who played for Rittman back in the 1980s when she coached the girls golf team, is a club professional at St. Andrew's Golf Club in West Chicago, Ill.
Rittman said she wouldn't change a thing about the life she's enjoyed as an educator and a teacher.
"I loved teaching school and coaching," she said. "It never felt like work. The students got everything we had to offer, and young people have a way to pick you up when you are feeling down."
The same could be said for the influence Rittman had on the many lives she impacted at North Allegheny High School and beyond.