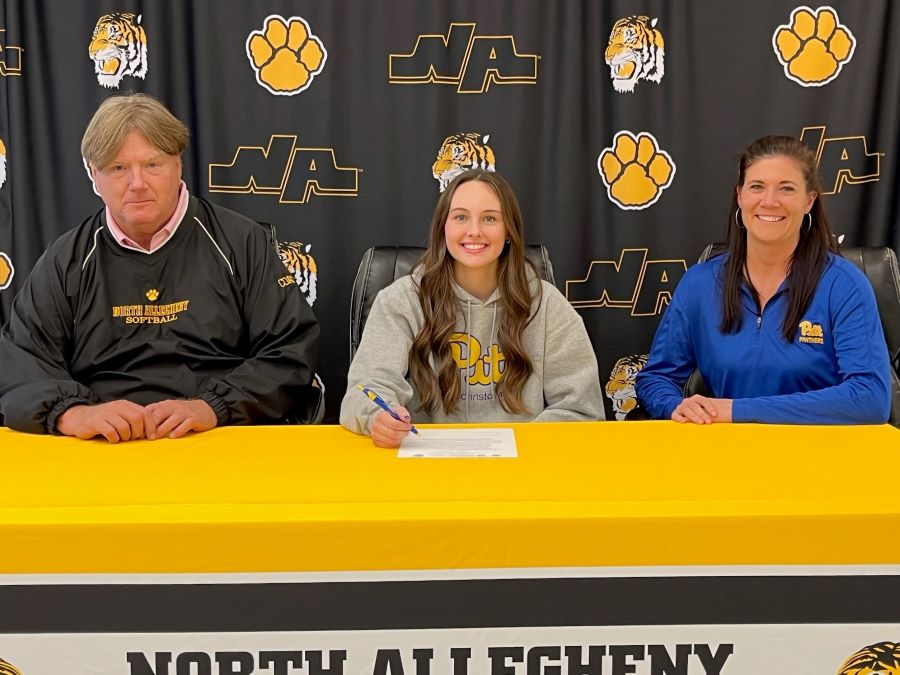 Meghan McDonough Inks Letter Of Intent With Pitt-Johnstown
North Allegheny senior centerfielder Meghan McDonough signed her letter of intent on Thursday to continue her academic and athletic career at the University of Pitt-Johnstown.
A speed merchant from the leadoff spot in the batting order, McDonough is a career .392 hitter at North Allegheny with 16 RBI and 35 runs scored in her two seasons in the starting lineup. Her freshman season was pre-empted due to the COVID-19 pandemic in the spring of 2020, otherwise making her a three-year starter. Defensively, McDonough patrols the outfield from gap to gap with her blazing speed and often robs opposing hitters of would-be base hits. McDonough has twice been named All-Section by the Big 56 Conference, garnering First Team honors as a junior and Second Team laurels as a sophomore.
McDonough plans to study nursing at Pitt-Johnstown. She is pictured above with North Allegheny assistant coach Warren Pirring and head coach Morgan Vescovi.