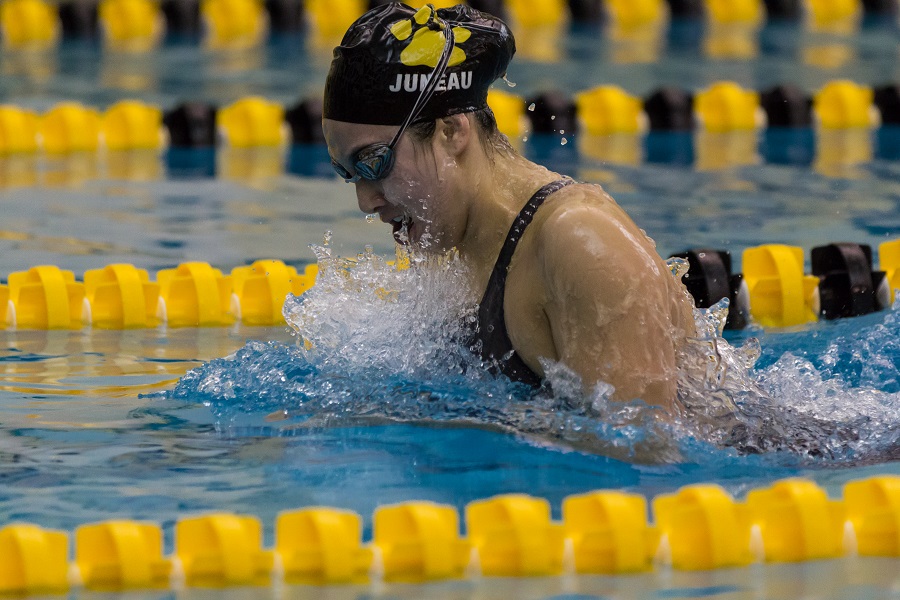 More Records Broken In NA Sweep Of Upper St. Clair
The North Allegheny boys team continued to set pool and varsity records in a dual meet against rival Upper St. Clair.  The boys had three pool records and one varsity record in their 127 – 58 victory.  The girls had another strong team performance in out swimming Upper St. Clair 110 – 76.
The boys were led by Rick Mihm who had a pool record best time of 1:49.35 in the 200 IM, followed by a pool record best time of 4:33.34 in the 500 Free.  Mason Gonzalez' time of 48.77 in the 100 Fly was a new varsity record.  Mason just missed a pool record in the 50 Free with his winning time of 20.45.  Jack Wright started the record setting night in the 200 Free with a new pool record of 1:38.27.  Jack completed his night with a win in the 100 Free.  Andrew Zhang was the winner in the 100 Back.  The boys again won all 3 of the relays beginning with Andrew Zhang, Jerry Chen, Rick Mihm, and Mason Gonzalez touching first in the 200 Medley Relay.  The team of Jack Wright, Joel Songer, Tolik Borisov and Mason Gonzalez won the 200 Free Relay while the team of Andrew Zhang, Rick Mihm, Josh Galecki and Jack Wright won the 400 Free Relay.
The girls team turned in another strong performance led by dual winners Molly Smyers, Kristine Mihm and Torie Buerger.  Molly won both of the distance freestyle events with her victories in the 200 Free and the 500 Free.  Kristine Mihm won both of the short freestyle events with exciting wins in the 50 Free and 100 Free.  Torie Buerger cruised to wins in the 200 IM and the 100 Back.  Olivia Kisow finished the individuals events with her win in the 100 Breast.  The girls were also winners in all 3 relay events.  Torie Buerger, Ann Juneau, Lila McGrath and Kristine Mihm started the night off winning the 200 Medley Relay.  Mary Flavin, Ann Juneau, Molly Smyers and Kristine Mihm touched first in the 200 Free Relay while Mary Flavin, Molly Smyers, Lila McGrath and Torie Buerger finished the girls night with their 400 Free Relay win.
Maya Ennis and Alaina Kim had strong dives enroute to their 1st and 2nd place finishes.  Dennis Knepp was the top boys diver with a 2nd place finish.
The team returns to action on Wednesday, December 27, at the Fox Chapel Invitational.  The meet begins at 9:15 am.