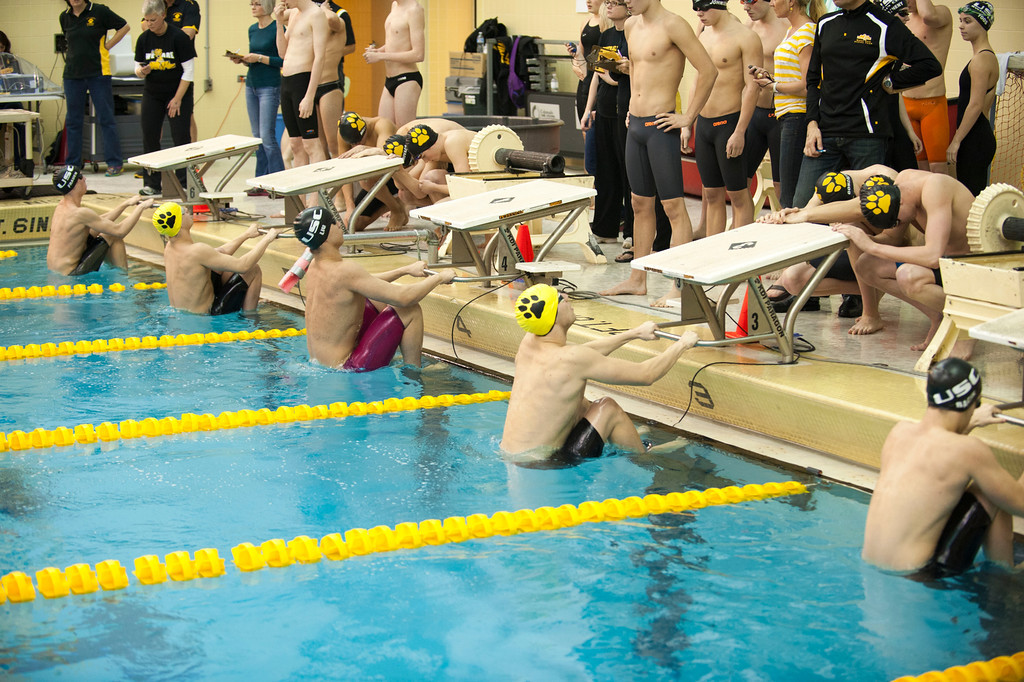 More Records Broken In Sweep Of Upper St. Clair
Junior Eben Krigger and sophomore Mason Gonzalez each set individual-event records and then teamed together on the boys 400-yard freestyle relay team that broke the pool record as the North Allegheny swimming and diving teams swept rival Upper St. Clair on Monday, December 21 at North Allegheny Senior High School. The boys won 102-82, and the girls won 97-87.  
Krigger's time of 4:34.23 in the 500-yard freestyle broke the pool record of 4:34.80 that was set by NA's Jonathan Buerger in 2008.  Krigger also won the 200-yard freestyle in 1:41.05.  Gonzalez's 50-yard freestyle time of 20.73 broke the school record of 20.76 that NA's Zach Buerger set in 2013, and he also finished first in the 100-yard freestyle in 45.78.  Krigger and Gonzalez were joined on the 400-yard freestyle relay team by senior Dan Songer and junior Max Gonzalez, and their time of 3:06.24 broke the pool record of 3:07.74, which an Upper St. Clair relay team set in 2013.  Senior Gage Halle was the other first-place finisher among the boys, winning the 100-yard breaststroke in 59.66.  In diving, senior Stephen Savchik finished first with 231.80 points, while senior Jared Ziegler finished third with 210.30.
Among the girls, junior Lauren McGrath won the 50-yard freestyle in 24.05, the 500-yard freestyle in 5:05.07, and then teamed with senior Katie Wright and juniors Anna and Aimee Verardi to set a pool record of 1:36.50 in the 200-yard freestyle relay, breaking the prior record set in 2013 by McGrath and NA teammates Morgan Soulia, Kristen Bishop and Jackie Du.  Other first-place finishers among the girls were sophomore Ann Juneau in the 200-yard individual medley (2:05.94) and senior Katie Wright in the 100-yard freestyle (53.32).  
In diving, NA's Maddie Mianzo, Morgan Rutan and Eliza Gaber took first through third respectively.  The North Allegheny swimming and diving teams are next in action on January 2 at the Bucknell Invitational.
For real-time event results during North Allegheny Swimming and Diving meets and other news, follow the team on Twitter at @NATigerSwimming and/or NA Tigers Swim Fan.