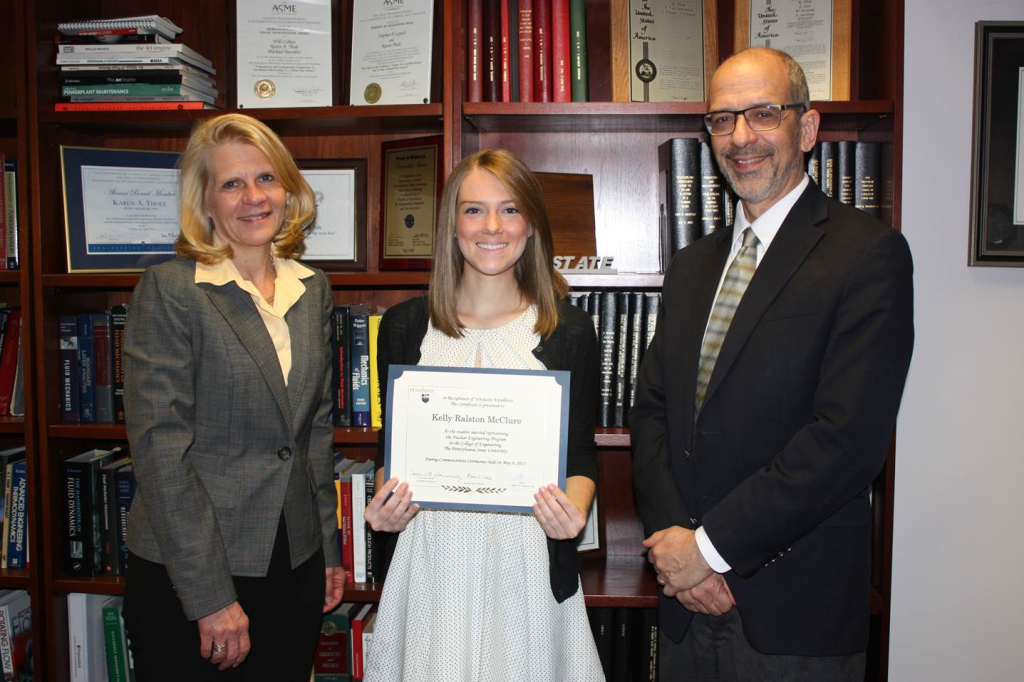 NA Alumna Named Penn State College of Engineering Student Marshal
University Park, Pa. – Kelly Ralston McClure will be the student marshal for the nuclear engineering baccalaureate degree program at the Penn State College of Engineering spring commencement ceremony on May 8. McClure will receive a bachelor of science degree in nuclear engineering. She has chosen Kostadin Ivanov, Distinguished Professor of Nuclear Engineering, to be her faculty escort. College of Engineering student marshals are selected for their outstanding academic achievement and contributions to engineering student life.
McClure is the daughter of Patricia and Richard McClure of Wexford. She is a 2011 graduate of North Allegheny Senior High School where she was a member of the WPIAL Champion Girls' Swimming & Diving Team her senior season. Individually, McClure finished in fifth place at the WPIAL meet and 13th at states. McClure was also a North Allegheny Cheerleader from 7th – 11th grades before joining the NA swimming team.
A Schreyer Scholar, she completed an undergraduate honors thesis titled "Effect of Core Size on Rod Worth During a Control Rod Drop Accident." Her awards and honors include the President's Freshman Award and the John J. Brennan Excellence in Nuclear Engineering Award. She is a member of the Alpha Nu Sigma National Honor Society for Nuclear Science and Engineering. She was the recipient of the Bernadette and Warren Witzig Nuclear Engineering Merit Scholarship, the National Academy for Nuclear Training Scholarship and the Smidansky Family Scholarship in Engineering.
McClure completed two engineering internships, one with GE Hitachi Nuclear Energy, where she improved the procedure for rod withdrawal error simulation, and the other with Exelon Corporation, where she utilized industry codes to perform cost-benefit analyses on changing various core characteristics. Her extracurricular activities included the American Nuclear Society (secretary, 2014); Women in Nuclear (vice president, 2013); and the South Halls Residents Association (events lead, 2012).
Following graduation, McClure will join Exelon Corporation as a reactor engineer.