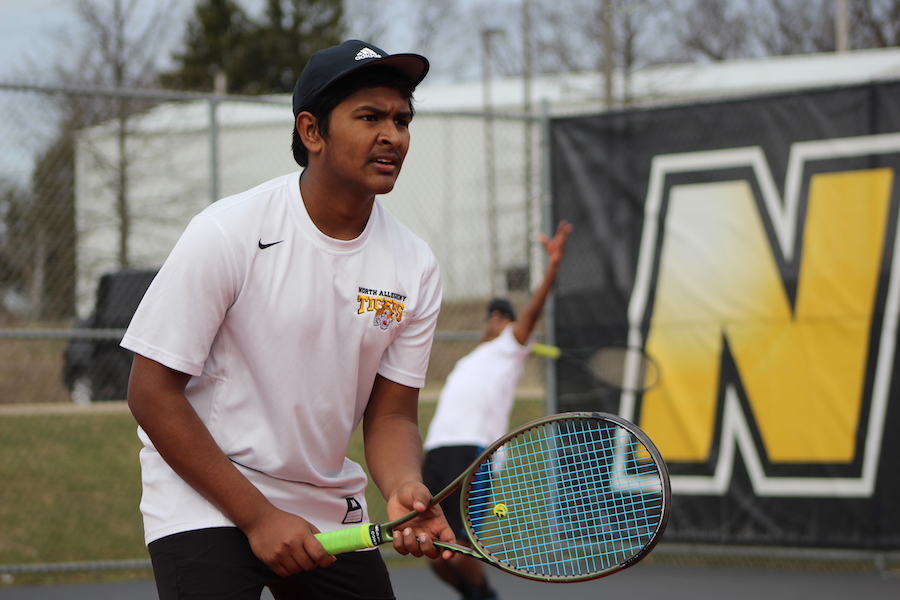 NA Blanks Butler in Section Play, 5-0
The NA Boys Tennis Tigers returned to action Thursday afternoon following the Section 2 Singles tourney by traveling to Butler for a Section 2 team contest.  When the action was completed, the Tigers posted a 5-0 shutout over the Golden Tornado, with each match decided in straight sets.
Freshman Evan Kaufman opened the scoring at two singles.  Senior Manas Kathir prevailed in first singles.  The clinching point came from the rackets of sophomore Sri Thirumala and freshman Adhav Ramadas at first doubles.  Junior Jeongwoo Cheon played his first varsity match with UT Tiwari at second doubles and they defeated their opponents.  Also making his varsity debut, sophomore Nitin Gupta wrapped up the day with the last of the straight set wins at third singles.
The win moves the Tigers to 5-0 on the season and 2-0 in section play. They travel to Upper St. Clair Friday afternoon to take on the Panthers for an exhibition match. Match time is scheduled for 3:30 PM on the U.S.C. courts.
Match Summary – 03/30/2023
North Allegheny 5, Butler Area 0
Singles
#1 Manas Kathir (NA) def. Andrew Bocci (BA)  6-0, 6-1
#2 Evan Kaufman (NA) def. Ben Busler (BA) 6-0, 6-0
#3 Nitin Gupta (NA) def. Jackson Morgus (BA) 6-4, 6-0
Doubles
#1 Sri Thirumala/Adhav Ramadas (NA) def. Thomas Sheptak/Wyatt Morgus (BA) 6-0, 6-0
#2 Jeongwoo Cheon/Utkarsh Tiwari (NA) def. Ryan Conaway/Landon Stevenson (BA) 6-1, 6-0