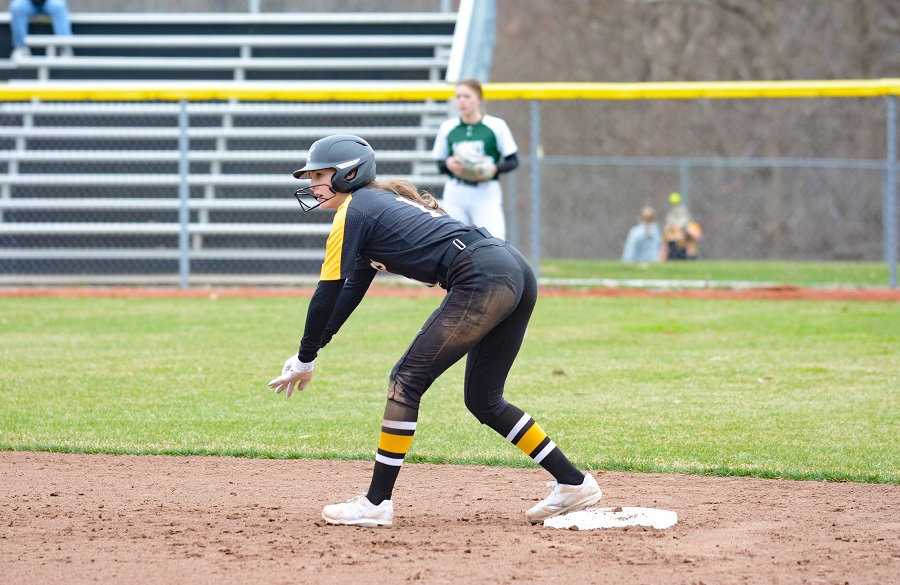 NA Blanks Hempfield In Rain-Shortened Victory, 1-0
The North Allegheny softball team blanked the No. 3-ranked Hempfield Spartans, 1-0, in a rain-shortened six-inning affair on Monday. Sophomore pitcher Sammy Plotsko tossed a complete game two-hitter and struck out six batters in the Section 1-6A opener and home opener for the Tigers. The contest featured a 35-minute rain delay in the second inning and another delay in the bottom of the sixth inning before the game was called.
Locked in a pitcher's duel with Hempfield sophomore standout, Riley Miller, Plotsko held the Spartans at bay and got all the run support she needed in the third inning. A one-out infield single by senior Meghan McDonough started the uprising in the third and was followed with a single by Plotsko to put runners and first and second. Junior Anne Melle capitalized for an RBI single to score McDonough for a 1-0 lead. Melle finished 2-for-3 at the plate with a pair of singles. Her RBI was the sixth on the young season for the NA shortstop.
To her credit, Miller prevented any additional damage throughout the afternoon and stranded eight Tigers on base. Miller yielded only one run with five strikeouts in her six innings of work.
Meanwhile, Plotsko limited the Spartans and retired 10 batters in a row from the third inning through the top of the sixth. In the sixth inning, Georgetown University commit, Maggie Howard, delivered a one-out single to give the Spartans a chance to tie the contest in the late innings. With Howard at first base, Allie Cervola stroked a hard line drive to centerfield that was snared just shy of the warning track by McDonough. Howard, who thought the ball would drop in for a base hit, missed second base on her way back to first and was called out on appeal for an inning-ending double play. The double-play proved to be Hempfield's last gasp as the game was called just a half inning later.
McDonough, who scored the game's only run on offense and delivered the game's most crucial play defensively, was named Wright Automotive Co-Player of the Game with Plotsko for their pivotal dual performances in the victory. Individually, Plotsko improves to 3-0 in three starts in the pitcher's circle this season.
North Allegheny leaps to 4-1 overall and 1-0 in Section 1-6A, while Hempfield slips to 2-1 overall and 0-1 in the section. The Tigers look to continue their winning ways on Wednesday afternoon with a visit to Canon-McMillan at 4:00 p.m.
Box Score - Softball vs. Hempfield - 03/27/2023
| Score by Innings | 1 | 2 | 3 | 4 | 5 | 6 | 7 | R | H | E |
| --- | --- | --- | --- | --- | --- | --- | --- | --- | --- | --- |
| Hempfield | 0 | 0 | 0 | 0 | 0 | 0 | X | 0 | 2 | 1 |
| North Allegheny | 0 | 0 | 1 | 0 | 0 | 0 | X | 1 | 7 | 0 |
WP - Sammy Plotsko (3-0) LP - Riley Miller