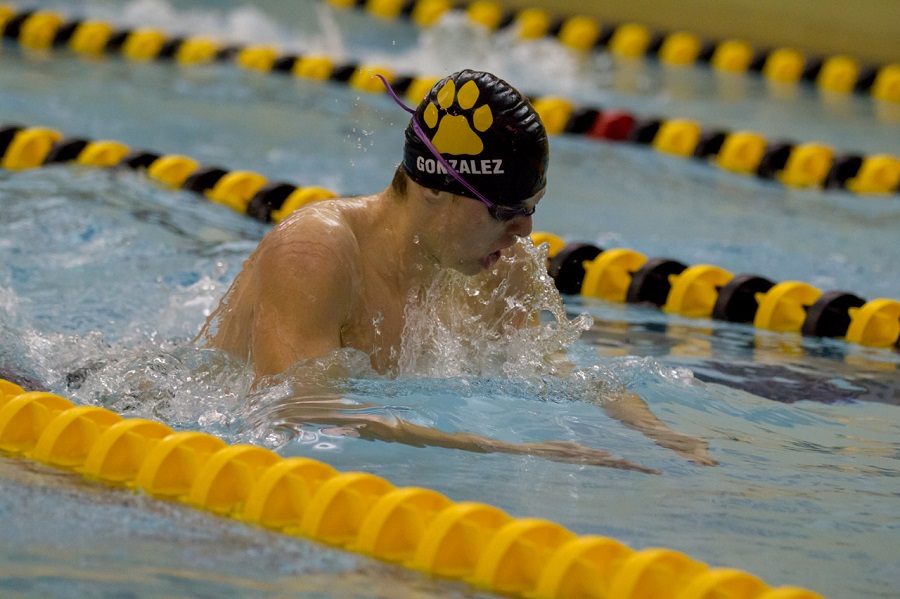 NA Boys Clinch State Gold
With another dominant performance in day two of the PIAA swimming championships the North Allegheny boys' team clinched a state title, its first since 2010. Because the PIAA had to rearrange the meet schedule as a result of Winter Storm Stella last week, the diving portion of the program was moved to next weekend which means the Tigers' victory celebration will have to wait until then. Despite the delay, a state championship coronation is inevitable as North Allegheny holds an insurmountable, 271-183, lead over second-place LaSalle College.
Already leading by 72 points entering the day, North Allegheny put the PIAA meet out of reach with the help of junior Mason Gonzalez who took first place in the 100-yard freestyle with a time of 43.62. Gonzalez was followed closely behind by sophomore Jack Wright who garnered third place with a time of 44.67. Adding to the NA lead was senior Eben Krigger's third-place finish in the 500-yard freestyle with a time of 4:28.19. Freshman Rick Mihm took fourth place in the same event with a time of 4:29.27. Checking in with top-ten showings were senior Maxwell Gonzalez (10th place) in the 500-yard freestyle and junior Andrew Zhang (ninth place) in the 100-yard backstroke.
For the Lady Tigers, senior Lauren McGrath took sixth place in the 100-yard freestyle with a time of 51.54. McGrath was also part of the 400-yard freestyle relay team, along with Anna Verardi, Kristine Mihm and Torie Buerger,  that earned a sixth-place finish. Buerger checked in with an eighth-place showing in the 100-yard backstroke, posting a time of 56.66.
The PIAA will not post the final team standings until the conclusion of the state diving championships which take place at 3:00 p.m. on Sunday at Bucknell University.