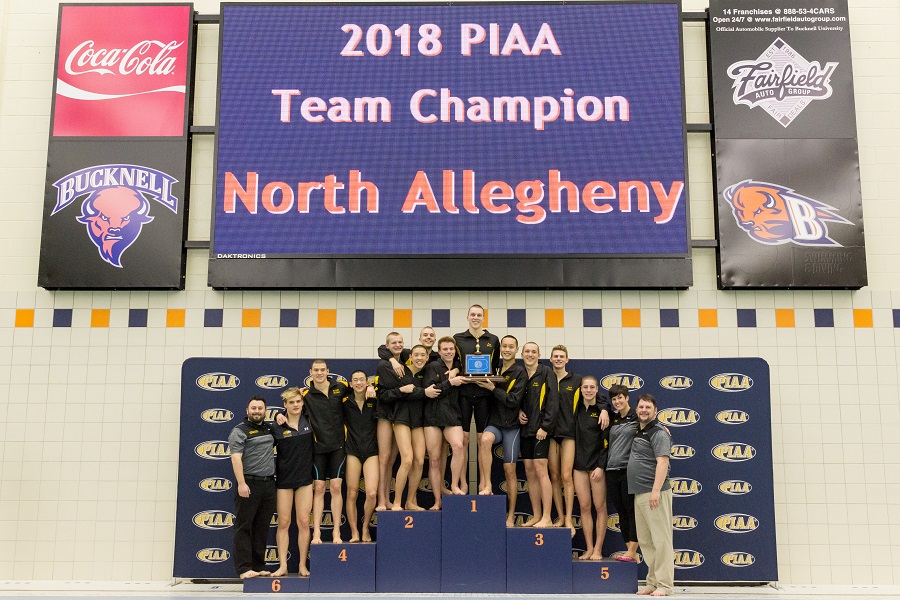 NA Boys Dominate, Repeat As PIAA Champions
The North Allegheny boys swimming team dominated the field for a second straight PIAA State Championship.  North Allegheny finished the meet with a total of 301 points, 111 points better than runner-up North Penn.  During the two day meet the team won 8 out of the 11 events and medalled in all 11 events.  The team won all 3 relays, with National records in 2 of the relays.  The team won 5 out of 8 individual events.
Mason Gonzalez followed up his 50 Free victory on Day 1 with a first place swim on Day 2 in the 100 Free.  Jack Wright followed with a close second place finish while Joel Songer finished in 13th place.  Ricky Mihm backed up his 200 IM Day 1 win with a 500 Free win on Day 2.  In the 100 Back Andrew Zhang swam to a runner up finish.  Jerry Chen finished the individual events for the meet with a 3rd place finish in the 100 Breast.  Freshman Jacob McCarran finished in 15th place.  The team finished the meet with a National Federation of State High School (NFHS) record in the 400 Free Relay.  The foursome of Mason Gonzalez, Andrew Zhang, Jack Wright and Ricky MIhm set the record with a time of 2:53.81. To see a video of the record setting performance by North Allegheny, click on the video below. (Video courtesy of PASwimming.com.)
The North Allegheny girls team finished the PIAA Championships in 9th place overall.  On Day 2 Torie Buerger placed 3rd in the 100 Back.  The girls finished the meet with a 10th place finish in the 400 Free Relay.  Kristine Mihm, Molly Smyers, Lila McGrath and Torie Buerger were the four swimmers on the relay team.
Freshman girls diver Maya Ennis advanced into the semifinals of the diving portion of the meet and finished in 19th place.