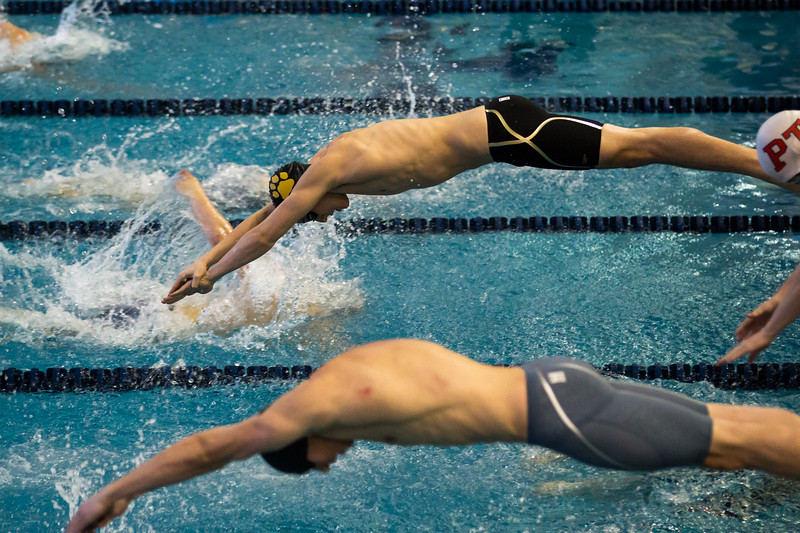 NA Boys In Command After Day One of PIAA State Meet
Neither a late-season snow storm, one-day schedule delay nor a format change could derail the NA boys quest on day one for their first state title since 2010.  The NA boys opened with a  commanding 179 point total followed by LaSalle College at 107 and North Penn at 92.
The 200 Medley relay team of Andrew Zhang, Ricky Mihm, Maxwell Gonzalez and Mason Gonzalez began the meet with an impressive performance.  The team dropped more than three seconds from their seed time and beat the second place team by nearly three seconds.  The team then added points in the 200 Free with Eben Krigger with a third place finish, Jack Wright finishing fourth and Ricky Mihm finishing fifth.  Maxwell Gonzalez had a strong swim in the 200 IM finishing in fourth place.  Mason Gonzalez won gold in the 50 Free by swimming a 19.99 time.  He is only the third swimmer to go sub-20 at the PIAA meet.  Andrew Zhang immediately followed with a runner up finish in the 100 Fly. The team put a wrap on day one with a PIAA record breaking swim in the 200 Free Relay.  Jack Wright, Ricky Mihm, Maxwell Gonzalez and Eben Krigger glided to a nearly 3 second victory over the second-place team.
The NA girls swam to seventh place finishes in the 200 Medley relay and the 200 Free Relay.  Torie Buerger, Ann Juneau, Aimee Verardi and Anna Verardi swam the 200 Medley while Lauren McGrath, Kristine Mihm, Aimee and Anna Verardi made up the 200 Free relay team.  Lauren McGrath placed eighth in the 200 Free and Torie Buerger placed 15th in the 200 IM.
The meet concludes today with the girls swimming the morning session and the boys swimming the evening session.