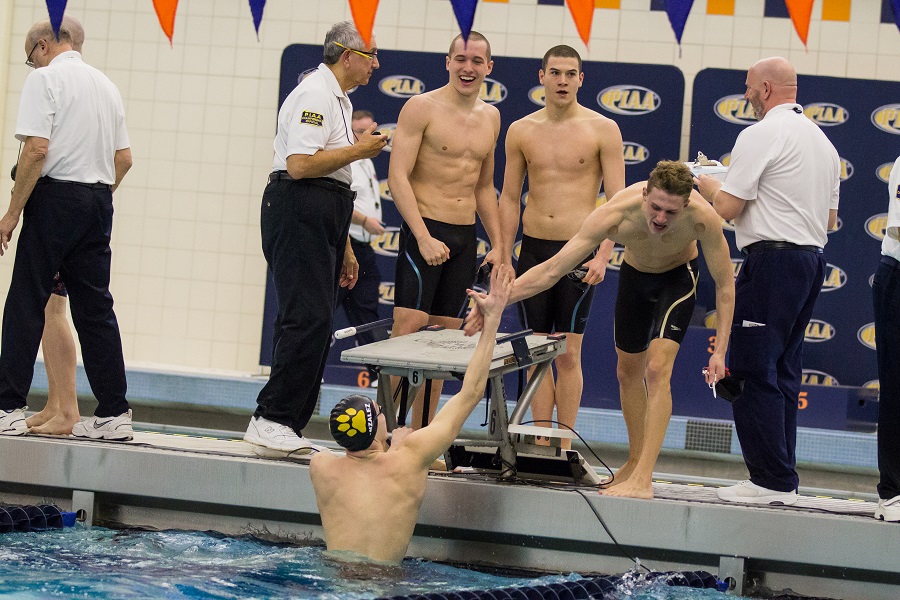 NA Boys Set National Record, Lead Day One at PIAA Championships
The North Allegheny boys swim team began their quest for a repeat PIAA title with a strong day one.  The boys accumulated 165 points, 52 points ahead of second place North Penn.  The team won both relays, claiming the National Public School Record in the 200 Free Relay, and won 3 out of 4 of the individual events.  The girls team finished the day with 48 points which is good for eighth place.
The 200 Medley Relay team of Andrew Zhang, Jerry Chen, Tolik Borisov, and Joel Songer started the meet with their victory.  Jack Wright followed with a win in the 200 Free.  Ricky Mihm won the 200 IM with John Ehling finishing in 12th place.  Mason Gonzalez continued the NA gold medal run with his victory in the 50 Free.  For the second consecutive year Mason finished with a sub 20 second time of 19.99 seconds.  Joel Songer finished in 11th place in the 50 Free.  Andrew Zhang completed the individual events with his 5th place finish in the 100 Fly.  The team of Jack Wright, Joel Songer, Ricky Mihm and Mason Gonzalez finished Day 1 with a National Public School Record time of 1:19.60 in the 200 Free Relay.
The girls 200 Medley Relay team of Torie Buerger, Ann Juneau, Lila McGrath and Kristine Mihm began the girls day with an 8th place finish.  Molly Smyers and Olivia Kisow started the individual events with their 11th place and 16th place finishes in the 200 Free. Torie Buerger followed with a 9th place finish in the 200 IM.  The girls team finished their Day 1 with a 12th place finish in the 200 Free Relay.  The team consisted of Kristine Mihm, Olivia Kisow, Ann Juneau and Molly Smyers.
The swimmers return to the pool tomorrow for the final day of the Championship.  The girls diving competition will also be conducted.