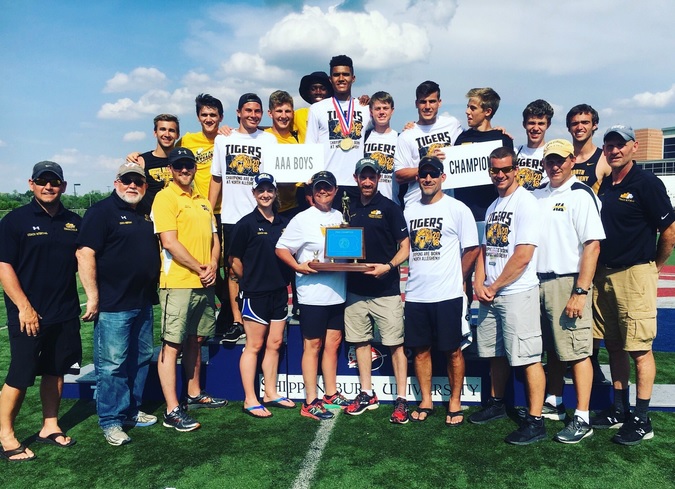 NA Boys Track & Field Wins PIAA Championship
The North Allegheny boys' track field team earned a state championship on Saturday afternoon at Shippensburg University. The Tigers earned a team score of 32 points, finishing in a first place tie with Bishop Shanahan. The Lady Tigers claimed an 18th place finish with a team score of 14 points.
Several NA Lady Tigers competed in the meet, including the 4x100m Relay team of Bailee Miara, Rachel Robertson, Rachael Giger, and Morgan McConnell.  Senior Clara Savchik raced to a ninth place finish in the 3200-meter run.  Sophomore sensation Casey Burton stood on the podium twice with All-State honors as she placed third in the 100-meter dash and second in the Long Jump.  Her jump of 19'6" shatters NA's school record of 18'4 ¾ " set back in 1993 by Melissa Dicicco.
In the preliminary events, Zach Ehling raced in the 800-meter and Donovan Rice hurdled in both the 100-meter High Hurdles and 300 Intermediated Hurdles races.   Jono Pelusi competed in the Pole Vault and was a leg in the 4x400m Relay with teammates Ehling, Sean Bartholomew, and Rice.  The 4×800-meter relay team of Cam Phillips, Luke Turkovich, Connor Foody, and Dan McGoey advanced to the finals and finished 12th in the state.  Dan McGoey had a podium finish in the 3200m and earned a fifth place medal in the meet.  Ayden Owens finished his high school career in stellar fashion as he placed second in the Long Jump and defended his state titles in the 300-meter Intermediate Hurdles and set a new meet record winning the 110m High Hurdles with a time of 13.69 seconds (see video courtesy of Trib Live HSSN below.) His time in the high hurdles broke his own PIAA record of 13.76, set a year ago.
Congratulations to head coach John Neff and the entire North Allegheny track and field team for a championship season.