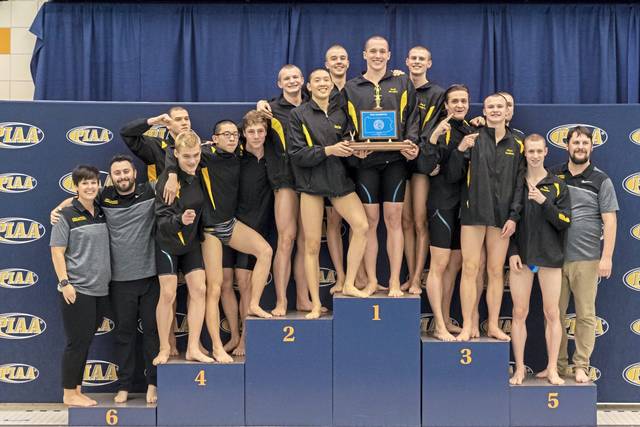 NA Boys Win 3rd Straight PIAA Championship
The North Allegheny boys won their third straight PIAA Class AAA swimming and diving championship, and sixth overall, on Saturday at Bucknell University's Kinney Natatorium. The boys team accumulated 279 points in easily outdistancing second-place finisher North Penn. The North Allegheny girls team finished the meet in eighth place with 104.5 points.
Ricky Mihm led the boys team defending his 500 Free championship with a time of 4:23.48. John Ehling finished in third place and Josh Galecki finished in 15th place. Jack Wright finished runner up in a very close 100 Free with a time of 43.81. Branko Kosanovich finished in 11th place in the event. Jerry Chen led the NA swimmers in the 100 Breast with a 5th place finish with Jacob McCarran finishing in seventh place. Mihm, Kosanovich, Ehling and Wright closed out the championship winning the 400 Free relay with a time of 2:59.80. For Saturday's final totals, click here.
The girls team was led by Torie Buerger and Molly Smyers. Buerger placed fourth in the 100 Back and Smyers placed 10th in the 500 Free. Buerger and Smyers teamed with Olivia Kisow and Lila McGrath to finish the meet touching in fifth place in the 400 Free relay. For Saturday's girls totals, click here.
Congratulations to the North Allegheny swimming and diving team for another terrific season.