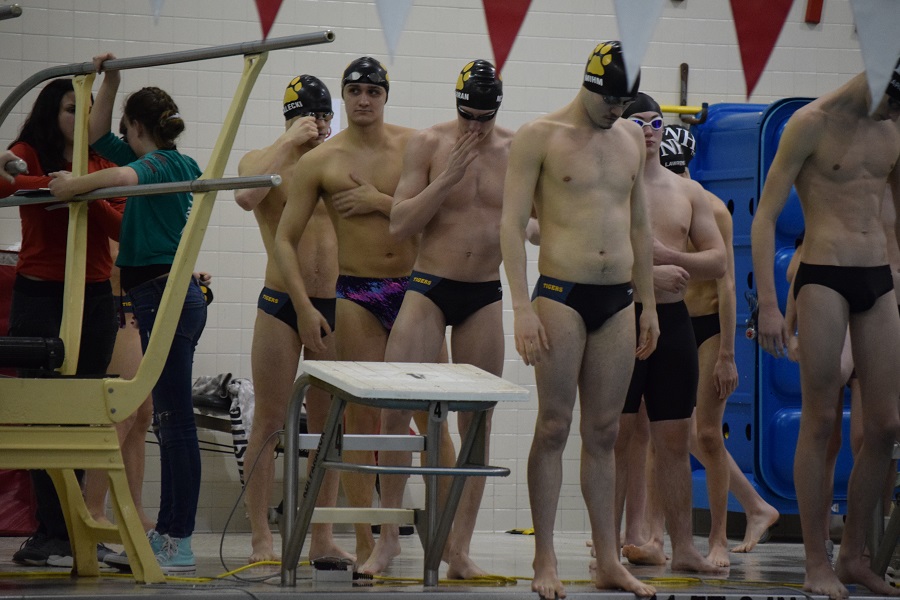 NA COMPLETES UNDEFEATED SEASON WITH WIN AT NORTH HILLS
The North Allegheny Swimming and Diving Team finished their season with a clean slate by defeating their section foe, North Hills, at their pool.  The NA Girls won 103-79, while the NA Boys earned 91-62 victory.
The Lady Tigers took six individual events and two relays.  Isabella Dietz won the 200 Free, Lexi Sundgren took the 200 IM, Torie Buerger got the 100 Butterfly and set a new pool record, Molly Smyers touched first on the 100 Free, Kara Mihm finished first for the 500 Free and Lily Courville grabbed the win on the 100 Backstroke. The team of Buerger, Sundgren, Olivia Kraus, and Smyers got the win on the 200 Free Relay, and the team of Smyers, Sundgren, Quinn Frost, and Buerger ended the night by winning the 400 Free Relay as well as setting a new pool record.
The NA Boys also won six individual events and took all three relays. They started off the night by setting a new pool record for the 200 Medley Relay, the team composed of Rick Mihm, Jacob McCarran, Branko Kosanovich and Josh Galecki.  Alex Grahor then led a sweep of the 200 Free, and Tim Compton did the same with the 200 IM.  Matt Turzai touched first for the 100 Fly, Ethan Song took the 100 Free. The 500 Free was swept as well, with Kosanovich getting the win.  Mihm not only led a sweep of the 100 Breaststroke, but also set a new pool record. The team of Mihm, Turzai, Grahor and McCarran got the 200 Free Relay, while the team of Tyler Tieppo, Turzai, Kosanovich and Galecki finished the night by taking the 400 Free Relay.
The NA Diving Team were winners as well tonight.  Eva Betz and Bailey Restelli took first and second place respectively, and Faith Miller took fourth. Will Schenk and Lucas Rodgers got first and second place for the boys.
The swimmers return to the NASH pool on Saturday, Feb.15, 2020, for the Last Ditch Invitational. This is the last chance for swimmers to get their WPIAL qualifying times.  The meet starts at 5 p.m.