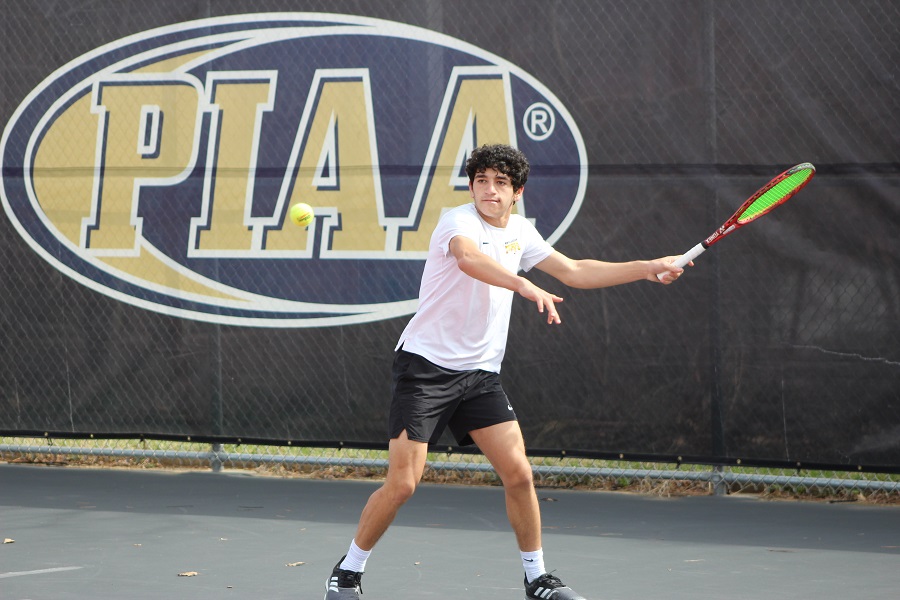 NA Continues Section Play With Sweep of West Allegheny
Tuesday afternoon's weather was perfectly clear and sunny, and the same result played out for the Tigers as they traveled to Imperial, PA to take on Section 2 rivals, the West Allegheny Indians.  The Tigers won the minimum requisite of 72 games and allowed only 7 games to their opponents in a 5-0 sweep.
The dominating display started with junior Manas Kathir at number two singles and was followed closely by sophomore Amit Bhandari at number three singles.  The clinching point came from senior Shomik Telang and junior Raj Ginde at one doubles.  The feature match of the day pitted North Allegheny's ace, sophomore Trey Davidson, against West Allegheny's senior, Connor Dalgaard at one singles.    In each set, Davidson was able to counter Dalgaard's excellent shot selection with his own shot making prowess.  As each set progressed, Davidson picked up both the pace of the match and the pace of his shots in limiting Dalgaard to two games per set.  Rounding out the straight set wins were senior Atharva Sumant and junior Sri Bellamkonda at two doubles.
With the win, the Tigers improved to 4-3 on the season and a 3-0 mark in section play.  The NA Tigers will now host the Moon Area Tigers in more Section 2 play Wednesday.  Match time is scheduled for 3:30 PM on the NASH courts.
Match Summary – 03/29/2022
North Allegheny 5, West Allegheny 0
Singles
#1 Trey Davidson (NA) def. Connor Dalsgaard (WA) 6-2, 6-2
#2 Manas Kathir (NA) def. Drew Dudes (WA) 6-0, 6-0
#3 Amit Bhandari (NA) def. Connor Romano (WA) 6-0, 6-0
Doubles
#1 Shomik Telang/Raj Ginde (NA) def. Luke Dale/Nick Collins (WA) 6-2, 6-1
#2 Sri Bellamkonda/Atharva Sumant (NA) def. Brett Kot/Jake Kent (WA) 6-0, 6-0