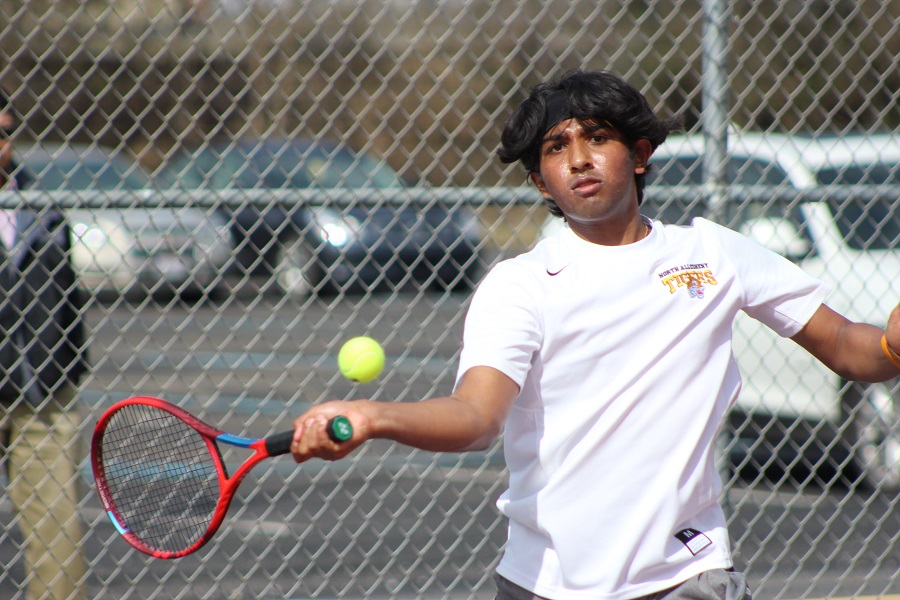 NA Continues Section Play With Win Against Pine-Richland, 4-1
The Tigers continued Section 2 play by hosting Pine-Richland Thursday afternoon to take on their neighboring rivals, the Rams.  Controlling play in four of the five lines, the Tigers made a strong showing with their 4-1 victory.
Playing at full strength for the first time this season, the Tigers' number one singles player, sophomore Trey Davidson, opened his high school career with a dominating win over Braiden Smalley in straight sets.  Davidson's all-around strong game was on display with exceptional pace being his strong suit.  The second team point came from sophomore Amit Bhandari, playing at 3rd singles and defeating Matteo Rovera while only losing one game in the process.  The winning team point came from the rackets of junior Sri Bellamkonda and senior Atharva Sumant at two doubles.  After taking the first set with a service break, the duo found themselves down 0-3 in the second set.  They then reeled off 6 straight games to take both their individual contest and the team match.
With the contest decided, junior Manas Kathir delivered the 4th point with a two set win over Justin Bang. Playing number two singles for the first time this season, Kathir found his rhythm in the second set and pulled away with precision.  Rounding out play was the only three-setter of the day, at first doubles, in an exciting contest.  Senior Shomik Telang and junior Raj Ginde paired up for the first time this season.  They took the first set 7-6 in a tie break (2), lost the 2nd set 5-7, and then battled to another tie break in the third set.  The 2nd tie break did not go their way and gave the Rams their only point of the day.
With the win, the Tigers even their overall record at 3-3 and move their section mark to 2-0.  The Tigers resume Section 2 play Monday, on the road, against Butler.  Match time with the Golden Tornado is scheduled for 3:30 PM.
Match Summary – 03/24/2022
North Allegheny 4 ,  Pine-Richland 1
Singles
#1  Trey Davidson (NA) def. Braiden Smalley (P-R) 6-1, 6-1
#2  Manas Kathir(NA) def. Justin Bang (P-R) 7-5, 6-3
#3  Amit Bhandari (NA) def. Matteo Rovera (P-R) 6-1, 6-0
Doubles
#1  Ethan Silipo/Nathan Bang (P-R) def. Shomik Telang/Raj Ginde (NA) 6-7 (2), 7-5, 7-6 (9)
#2  Sri Bellamkonda/Atharva Sumant (NA) def. Colby Ohlund/Andrew Alexander (P-R) 6-4, 6-3