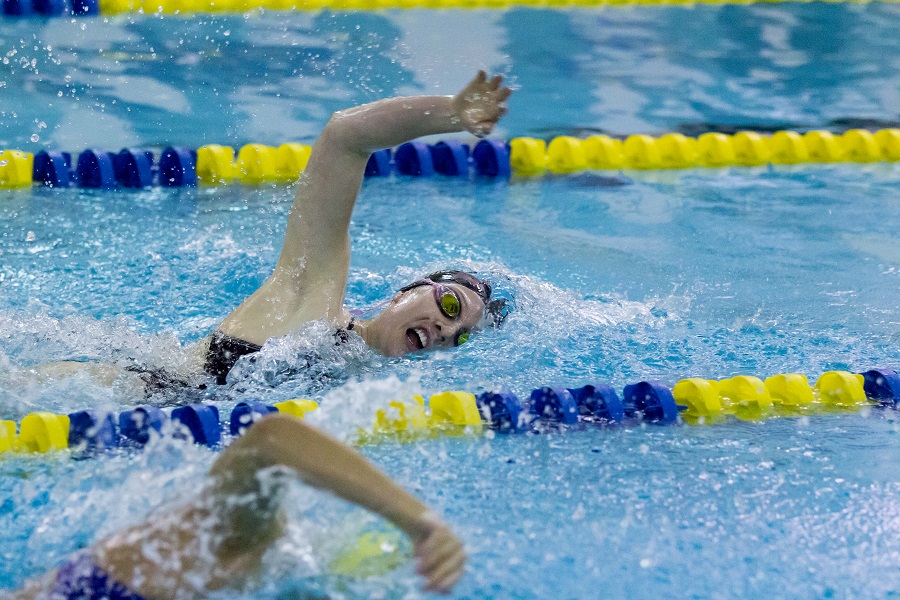 NA Continues Winning Ways at Hampton
Then North Allegheny swimmers and divers continued their winning ways at sectional rival Hampton High School.  The girls team won 97 – 83 while the boys team won by a score of 99 – 81.
Nicole Marnell started the individual events off with her win in the 200 Free.  Molly Smyers was the next winner with victories in both the 50 Free and 100 Fly.  Torie Buerger duplicated the multi event winning with her victories in the 100 Free and the 100 Breast.  Kristine Mihm's win in the 100 Back rounded out the girls team individual event victories.  The team won 2 out of 3 of the relay events.  Kristine Mihm, Torie Buerger, Molly Smyers and Quinn Frost won the 200 Medley Relay while the team of Quinn Frost, Olivia Kisow, Katie Oates and Olivia Laun won the 200 Free Relay.
Rick Mihm started the boys team off with his victory in the 200 Free.  He returned to the pool later in the meet to win the 100 Breast.  Alex Grahor continued the winning ways with his 200 IM victory, followed immediately by Jerry Chen's win in the 50 Free.  Jack Wright won the 500 Free to close out the individual event winners.  The boys team also won 2 out of 3 of the relay events.  Matt Turzai, Josh Galecki, Richard Jensen and Rick Mihm won the 200 Free Relay. Josh Razum, Alex Grahor, Josh Galecki and Rick Mihm finished the meet off with a 400 Free Relay victory.
The girls diving team was led by 2nd place finisher Maya Ennis and 3rd place finisher Olivia Schenk.  The boys team was led by 1st place finisher Lucas Rogers.
The team returns to North Allegheny on Thursday, January 25, with a sectional meet against Mars.  The meet begins at 6pm.