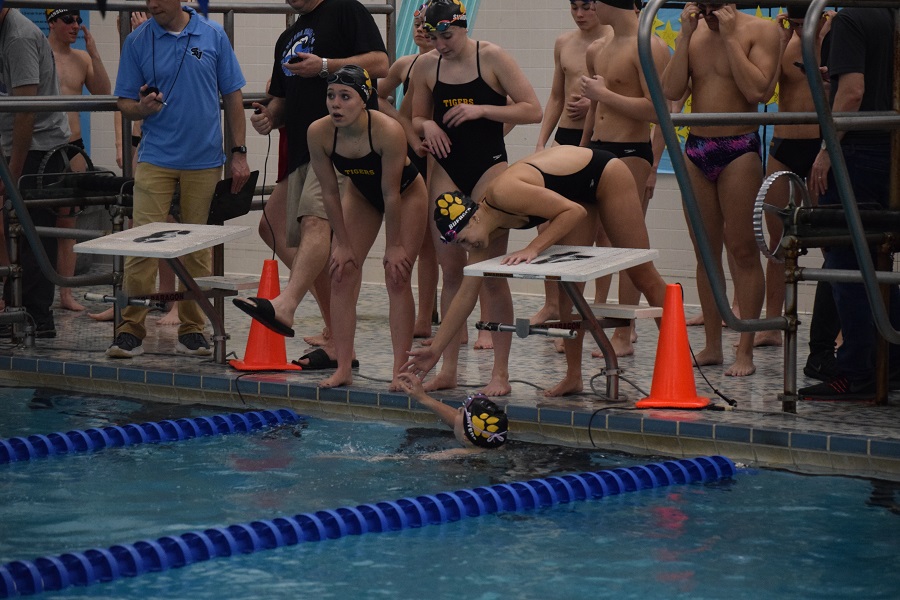 Tigers Defeat Raiders
The North Allegheny Swimming and Diving Team was given a challenge by its section rival, Seneca Valley, on Thursday night. The NA girls won by the score of 106-80, while the NA boys earned a 103-83 victory.
The NA Lady Tigers began the meet by taking the 200 Medley Relay, with the team of Torie Buerger, Molly Smyers, Ella Ogden and Lexi Sundgren.  They then won 6 of the 8 individual events.  Buerger took the 200 IM, Olivia Kraus sprinted to win the 50 Free, Ogden touched first in the 100 Fly, Sundgren got the 100 Free, Smyers took the 500 Free and Kara Mihm won the 100 Back.  The team of Sundgren, Buerger, Ogden and Smyers took the 200 Free Relay and set a new pool record.  The girls capped off the night by taking the 400 Free Relay, with the same team from the 200 Free Relay touching first.
The NA Boys were challenged early by the Raiders but they were up to it. They won 6 out of the 8 individual events and 2 of the 3 relays.  Josh Galecki was a double winner, taking the 200 Free and 100 Free.  Rick Mihm was as well, with the 200 IM and the 500 Free.  He also set a new pool record for the 200 IM, beating his old pool record there.  Alex Grahor sprinted to take the 50 Free, and Jacob McCarran won a tight race for the 100 Breaststroke. The 200 Free Relay team of Branko Kosanovich, Grahor, Galecki and Mihm won the event and set a new pool record.  They finished off the night by taking the 400 Free Relay, with the team composed of Kosanovich, Matt Turzai, Mihm and Galecki.
The Girls and Boys Diving Teams had stiff competition as well.  Zoe Ky took first and Christina Shi took third respectively in a tightly battled contest, and Olivia Schenk took sixth.  The boys resulted with Will Schenk taking third, and Lucas Rodgers getting fourth.
The next meet will be Senior Night against Mars on Thursday, February 6.  Diving begins at 5 p.m.