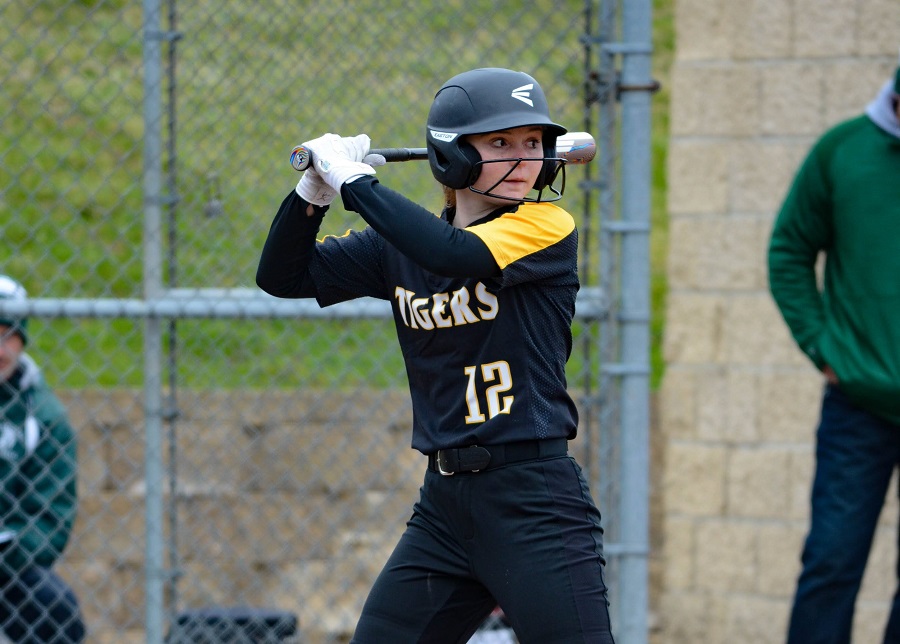 NA Bombards Baldwin In 12-1 Victory
North Allegheny earned a 12-1 victory over Baldwin with a 13-hit offensive onslaught that included two home runs.
Sophomore Sammy Plotsko got things started for the Tigers with a solo home run in the top of the first inning. Although scoreless in the second, North Allegheny's offense tallied seven runs in the third. The inning started with a pair of singles by sophomore McKenna Rowlands and senior Meghan McDonough, and an error on a hard-hit ball by Sammy Plotsko loaded the bases. Junior Anne Melle reached base safely on a fielder's choice that scored Rowlands, increasing the Tigers' lead 2-0. With the bases loaded again, senior Sadie Kelly doubled, scoring three runs for the Tigers. After senior Mayson Brokos reached first on an error, junior Caitlin Logan hit a three-run homer for North Allegheny. The Tigers entered the fourth inning with a lead of 8-0.
The Tigers scored again in the fifth inning when junior Kaci Plotsko led off with a walk, followed by a well-placed sacrifice bunt by Logan that advanced Kaci Plotsko to third before a throwing error scored her. While the Highlanders scored a single run in the bottom of the sixth, the Tigers remained unfazed, scoring the final three runs in the top of the seventh. McDonough singled on a bunt, advancing junior Olivia Carlson to third. Sammy Plotsko grounded out, scoring Carlson and advancing McDonough to third. An error on Melle's fly ball then scored McDonough. Junior Julia Drazga smacked in the Tigers' final run of the contest with a single to center field to close out a 12-1 win.
The Tigers racked up 13 hits throughout the game. Sammy Plotsko (3-for-5, 2 RBIs), Rowlands (2-for-4), and McDonough (2-for-5) all managed multiple hits for the Tigers, while Kelly and Logan earned 3 RBIs apiece on the day.
Melle led the defense on the mound, allowing only seven hits and one run over seven innings, striking out six.
The Tigers are scheduled to host the Butler Tornadoes tomorrow night at 6:00 pm for their next section contest. The game will be broadcast live by the North Allegheny Sports Network.
Box Score - Softball vs. Canon-McMillan - 03/29/2023
| Score by Innings | 1 | 2 | 3 | 4 | 5 | 6 | 7 | R | H | E |
| --- | --- | --- | --- | --- | --- | --- | --- | --- | --- | --- |
| North Allegheny | 1 | 0 | 7 | 0 | 1 | 0 | 3 | 12 | 13 | 0 |
| Baldwin | 0 | 0 | 0 | 0 | 0 | 1 | 0 | 1 | 7 | 4 |
WP - Anne Melle (2-1) LP - Jordan Gerendash