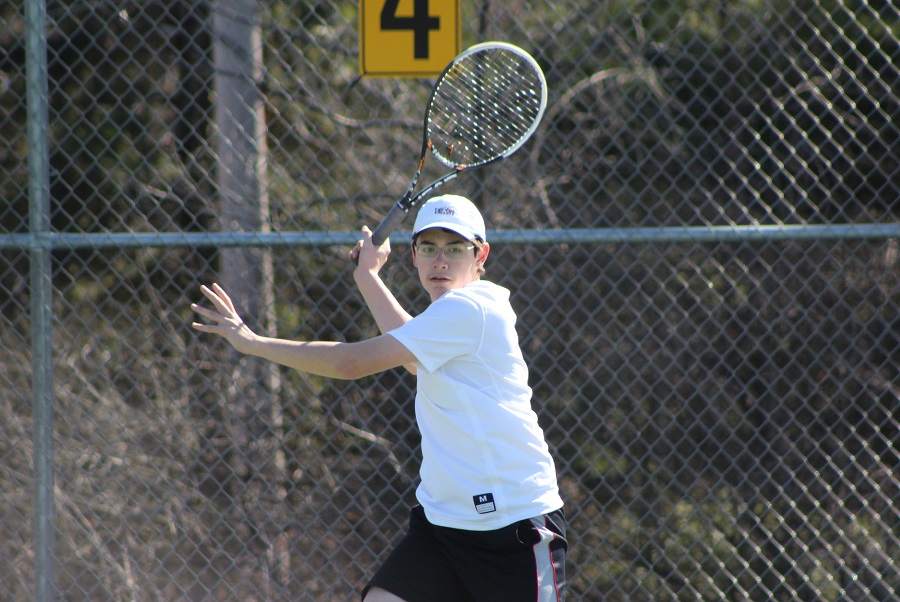 NA Falls in WPIAL Quarterfinals to Shady Side Academy
The Tigers continued play in the WPIAL AAA Boys Tennis tournament Monday afternoon and competed well but fell 5-0 to Shady Side Academy in the quarterfinal round at home on the NASH courts. Each match featured outstanding competition and great shot making, including two three-set matches, but the Tigers failed to find any winning combinations on the day.
Junior Ivan Voinov and fellow junior Andrew Chuirazzi competed at two and three singles respectively but fell in two sets apiece.  Two more juniors, Reed Stasko and Ethan Schenk also fell in two sets at number two doubles.  Sophomores Mark Chuirazzi and Jerry Huang took their opponents to three sets at number one doubles before the Shady Side duo prevailed.  After the contest was settled, junior Richard Hofmann and Shady Side's Naman Dua tangled in a see-saw match while dodging raindrops. Dua prevailed in three outstanding sets.
With the loss, the Tigers' season concludes with an 11-6 mark, a record that includes a 7-0 Section 2 log and championship. With all but one team member returning next season, the Tigers' new found experience will serve them well in the 2018 season.  A special shout out goes to senior Anmol Anand who contributed much to the Tigers' program over his four-year career.  He will attend the University of Michigan next year.  Additionally, sophomores Rohan Cowlagi and Soureesh Moturi offered fine play in spot duty at two doubles.  With team play completed, several Tigers will set their sights on Section 2 and WPIAL competition staring next week.  Richard Hofmann and Ivan Voinov will represent the Tigers at the Section 2 Singles Tournament starting May 1.  On May 8, Hofmann and Voinov along with the team of Mark Chuirazzi and Jerry Huang will begin competition at the Section 2 Doubles Tournament.  Details will be provided on the North Allegheny Sports Network.
Match Summary – 04/24/2017
WPIAL AAA Team Tournament-Quarterfinal Round
Shady Side Academy– 5, North Allegheny–0
Singles
#1 Naman Dua (SSA) def. Richard Hofmann (NA) 4-6, 6-3, 6-3
#2 Tamay Kumta (SSA) def. Ivan Voinov (NA) 6-0, 6-3
#3  Luke Ulham (SSA) def. Andrew Chuirazzi (NA) 6-2, 7-6 (3)
Doubles
#1 Alex Reuter/Clayton Guyaux (SSA) def. Mark Chuirazzi/Jerry Huang (NA) 2-6, 6-1, 6-0
#2  Russell Erb/Cole Hartman (SSA) def. Reed Stasko/Ethan Schenk (NA) 6-4, 6-2