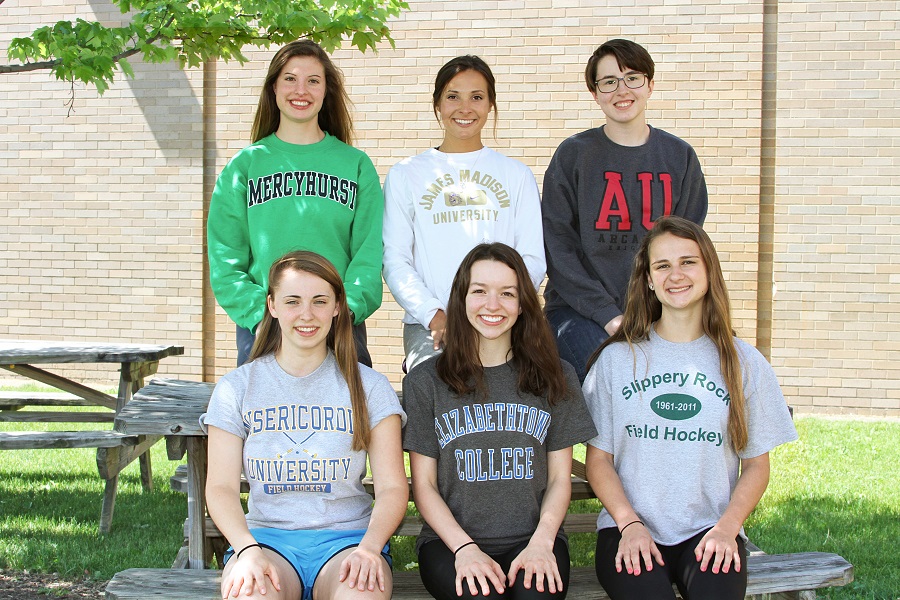 NA Field Hockey Seniors Continuing Careers In College
Six of North Allegheny's varsity field hockey players have enrolled at universities where they will continue their education while playing field hockey at either the Division I, II or III level. The Tigers team was victorious in their second consecutive WPIAL Championship during the girls' senior season. For their efforts, Megan Guzzardi, Kailey Vogl and Jessica Brandon were all selected to the All WPIAL Class AAA All-Star Team. These three, along with Isley Smith and Hannah Downing, were also selected to the Section 1 All-Star Team. Defender Kendra Downey was awarded honorable mention recognition.
Megan Guzzardi, four-year varsity midfielder for the Tigers, signed her National Letter of Intent (NLI) in November 2014 to play for Division I James Madison University in Harrisonville, Va. Guzzardi plans to work toward her bachelor's degree in health sciences before moving on to a physician assistant master's program.
Hannah Downing, a three-year varsity midfielder, also signed an NLI in November 2014 to play at the Division II level for Slippery Rock University. Downing has been admitted to the Honors College physician assistant 3-2 master's program and received several athletic and academic scholarships. Her academic awards include both a Merit Scholarship and an Achievement Award Scholarship from Slippery Rock.
Jessica Brandon, forward for the Tigers, was a four-year varsity letter-winner. Brandon signed a university Letter of Intent with Division II Mercyhurst University in Erie, Pa. Brandon accepted a merit offer from the university in the form of the Mother M. Borgia Egan Scholarship. Brandon was accepted into the Mercyhurst Honors Program and will major in exercise science with a concentration in pre-physical therapy.
Kailey Vogl has committed to play Division III field hockey at Misericordia University, in the northeastern city of Dallas, Pa. Vogl earned three varsity letters and was a two-time captain of the Tigers varsity squad. Vogl has participated in USA Field Hockey's Futures Olympic Development Program for the past four years, training at the Level 1 and Elite site, and was selected to compete at Nationals in 2014. She earned the Trustee Scholarship and the McAuley Award to pursue a degree in health care management through Misericordia's 6 ½ year doctorate of physical therapy program.
Kendra Downey, winner of a National Merit Commendation, plans to continue playing field hockey after committing to Elizabethtown University near Harrisburg, Pa. Downey was a varsity defender for the Tigers during both of their WPIAL championships. Downey will major in biology at Elizabethtown and has been accepted into the Thomas Jefferson University graduate school to receive her doctorate in physical therapy.
Isley Smith has committed to Arcadia University, near Philadelphia, Pa. Smith was a three-year varsity letter-winner with the Tigers. She plans to major in biology in her pursuit of a forensic science degree at Arcadia. Smith aspires to attend medical school at either Ohio State or Temple to eventually become a medical examiner.