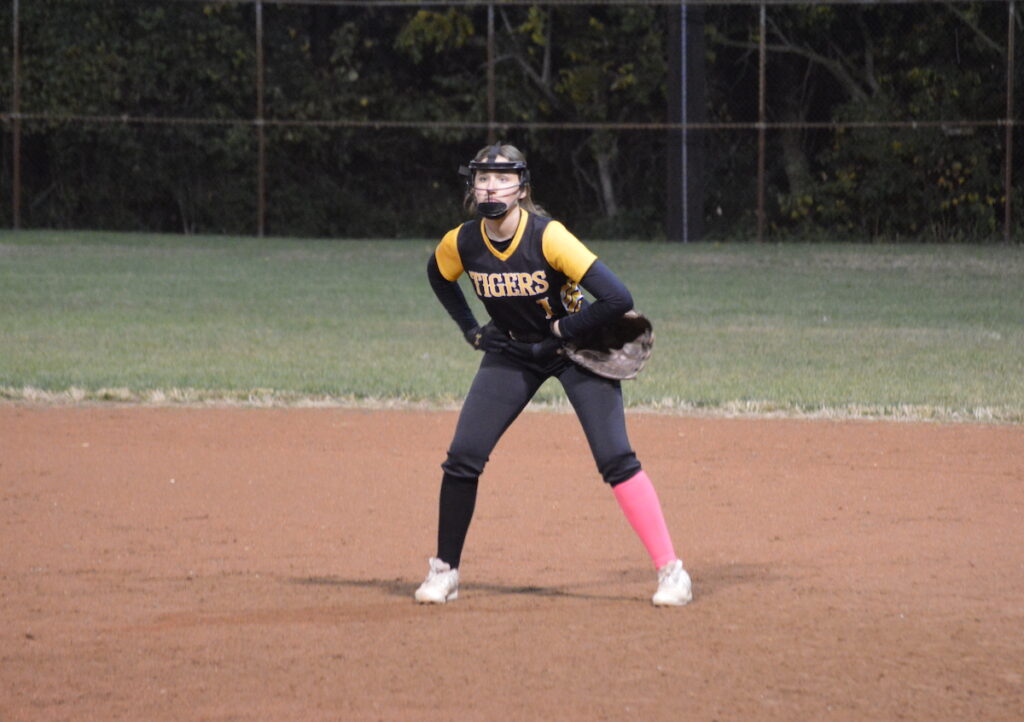 NA Finishes Strong Against Baldwin
by Slow-Pitch Softball Contributor
The Tigers Varsity Slow-Pitch Softball team are the WPISL regular season champions after defeating Baldwin at their final games of the regular season. The Tigers are 12-2 on the season and will play in the WPISL playoffs this weekend at Mt. Lebanon.
In Game 1, the Tigers came out swinging. It all started with sophomore Claudia Kushon, who hit a double. Junior Emily Sobehart followed with a walk, and senior Reilly Spitz's powerful double to left field brought in two runs. The lineup continued to produce, with junior Mady Daugherty and freshman Amara Daugherty hitting singles, resulting in more runs. The inning featured notable contributions from seniors Keala Glaser and Jayna Cole and juniors Emily Marangoni, Hannah Anderson,and Ella Mitchell, and another big hit from Kushon, an inside-the-park home run, capping off a 10-run inning. In the bottom of the first inning, NA showcased their defensive skills, with Glaser catching a pop-up at 3rd. Spitz got a runner out at second and threw to Marangoni, but the runner was safe at first. Marangoni then quickly threw to Anderson at catcher for an out at home, completing the double play.
In the second inning, Mady Daugherty began with a single, but no remaining runs were scored. Baldwin still struggled to get on the board, and the inning ended at 10-0.
In the third inning, the Tigers continued to extend their lead. Marangoni and Anderson led off with hits, and Mitchell, Kushon, and Mady Daugherty added to the run tally with RBIs. Spitz had a triple which brought in an additional two runs, and Glaser's single brought in two more. Baldwin's offense continued to have difficulty scoring runs. A batter stepped on home plate, another one had a double hit, and Kushon made an out at 2nd base. After three innings, the score was now 17-0.
In the fourth inning, freshman Viola Laswell began with a fly ball to center field, resulting in a single. The inning featured hits from Anderson, senior Addie Lee, Mitchell, and freshman Lily Daugherty. On defense, Glaser caught a pop-up at 3rd, and Lily Daugherty made an out at 2nd. Mitchell made a throw to Glaser for another out at 3rd. Baldwin managed to score one run, bringing the score to 17-1.
In the fifth inning, Sobehart started the inning with a fly ball to left field, resulting in a single. Spitz added to the hits with a single to right field. Mady Daugherty contributed another single and an RBI. Sophomore Olivia Klaich had a grounder to center field, resulting in an RBI. Cole came up with a double, bringing in two more runs. Laswell had another single, and Anderson and Mitchell both had singles that resulted in RBIs. In the bottom of the 5th inning, Lily Daugherty caught a pop up at 2nd, Spitz made a throw to Lily Daugherty for another out at 2nd, and Mady Daugherty ended the game catching a fly ball in center field. The final score was 23-1 in favor of the Tigers.
In Game 2, the story continued in a similar vein. The opening inning saw Baldwin take an early 1-0 lead, but NA quickly responded with a barrage of hits, demonstrating their offensive capabilities. In the bottom of the 1st inning, NA's batters collectively contributed to a substantial eight-run lead, highlighting their offensive proficiency.
The following innings maintained NA's impressive offensive performance, with Glaser's home run in the top of the 3rd inning being a standout moment. The Tigers scored 33 runs in the 4th inning. Baldwin found it challenging to counter NA's consistent hitting and strong defense, resulting in a final score of 47-1 in favor of North Allegheny. Game 2 mirrored the earlier match, with NA's exceptional offensive performance securing another resounding victory, reaffirming their dominance on the softball field.
Congratulations to the North Allegheny Tigers Varsity Slow-Pitch Softball Team on their outstanding 12-2 season and for being the WPISL regular season champions. Best of luck in your playoff run this weekend. The Tigers first playoff game will be at 3:00 pm in Mt. Lebanon.