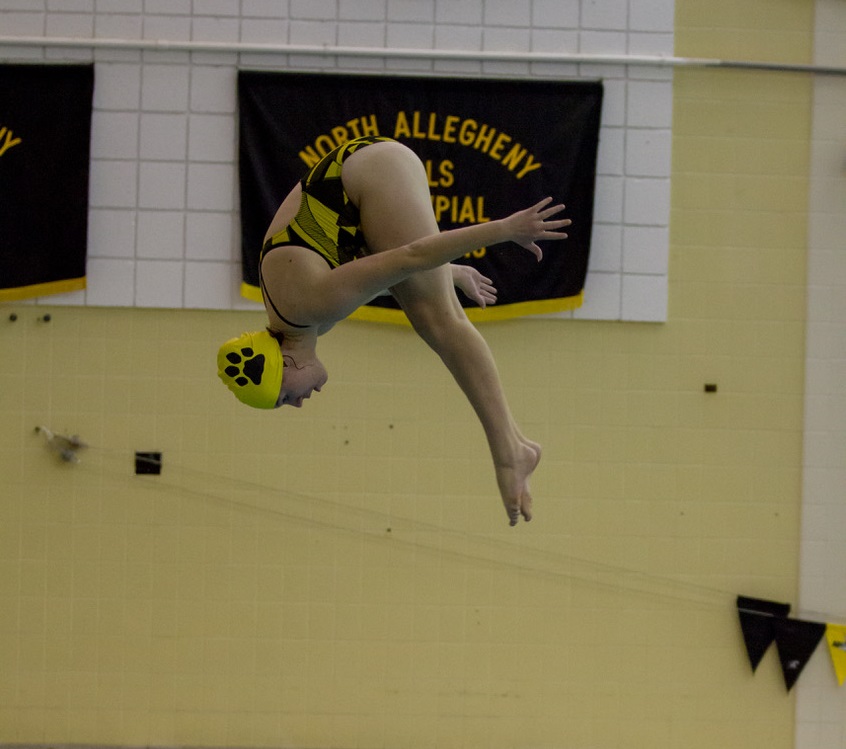 NA Gets Impressive Win Against USC
Before a large and lively crowd on alumni night the North Allegheny boys and girls swimming teams scored impressive victories over rival Upper St. Clair.  The boys won all individual and relay events in their 101 – 77 win while the girls cruised to a 100 – 81 win.
The boys had first, second and third place finishes in the 200 Free, 100 Fly, 100 Free and 500 Free. Eben Krigger won the 200 Free with Jack Wright and Joel Songer closely behind.  Ricky Mihm won the 100 Fly followed by Eric Staab and Zack Shuckrow.  Mason Gonzalez was victorious in the 100 Free and Wright and Songer again finished second and third as they did in the 200 Free.  Krigger followed his 200 Free win with a win in the 500 Free.  Max Gonzalez and John Ehling finished second and third respectively.  Other individual winners included Andrew Zhang in the 200 IM and 100 Back, Mason Gonzalez in the 50 Free, and Jerry Chen in the 100 Breast.  The boys handily won all three of the relay events.
The girls' team was led by double winners Lauren McGrath, Torie Buerger and Ann Juneau.  McGrath had wins in the 50 Free and the 500 Free while Buerger won the 200 IM and the 100 Back and Juneau won the 100 Fly and the 100 Breast.  Anna Verardi had a victory in the 100 Free. The girls won all three relay events with Buerger, Juneau, Anna Verardi, and Aimee Verardi taking the 200 IM relay. The team of Anna and Aimee Verardi, Mary Flavin and McGrath won the 200 Free relay and Kristine Mihm joined McGrath, Flavin and Buerger in winning the 400 Free relay.
Maddie Mianzo won the girls diving with a score of 222.95 with Morgan Rutan getting a third place finish with a score of 184.80. Nathan Ziegler finished second in the boys diving with a score of 166.35 and Trey Serbin finished third.
The next meet is a sectional meet on January 5 at Shaler.  The meet begins at 6:00 PM.