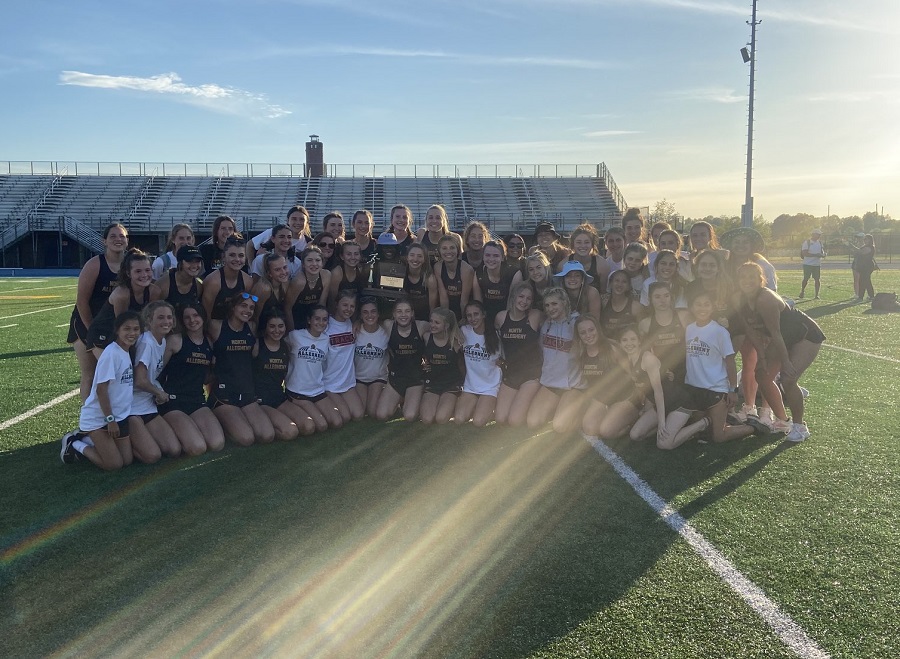 NA Girls Shine As WPIAL Class AAA Champs, NA Boys Runners-Up
The North Allegheny girls' track and field team defeated Butler (98-52), Norwin (109-41) and South Fayette (93-57) to win a 12th WPIAL championship on Wednesday afternoon at West Mifflin High School. The Lady Tigers' Class AAA crown is their first since 2005, which was the fifth of five in a row for NA at that time.
The North Allegheny boys' team topped Norwin (112-38) and Mt. Lebanon (101-49) but couldn't prevent Butler from winning a second consecutive WPIAL title. The Tigers fell to their section rival, 97-53.
For the Lady Tigers, the quartet of Robin Kucler, Wren Kucler, Rachel Hockenberry and Maura Mlecko took first place in the 4x800m relay. Wren Kucler, Robin Kucler and Mlecko dominated the 1600m run and claimed a 1-2-3 finish at the top of the podium. Wren Kucler also won WPIAL gold in the 800m run and 3200m run, while sister Robin took bronze in both events. Other first-place performances were turned in by Jackie DiGiacomo in the Discus Throw, Mia Tuman in the 400m dash and Kena Shannon in the 300m Hurdles.
Isabella Costa won a pair of WPIAL silver medals in the 400m dash and Long Jump, while Ava Como took second place in the Pole Vault and Rachael Johns did the same in the 100m Hurdles. The combo of Lucia Wells, Arianna Tegtmeier, Natalie Figura and Lola Akindele took second place in the 4x100m relay. Additionally, the grouping of Tuman, Akindele, Shannon and Costa won silver in the 4x400m relay.
WPIAL bronze was won by Wells in the 100m dash, Akindele in the 200m dash, Madelyn Wemble in the Triple Jump, Evelyn Wiethorn in the Javelin Throw and Jamie Frisco in the Shot Put.
Aiding the NA Boys in their effort as WPIAL runners-up was Owen Curran with a gold medal finish in the High Jump, along with a pair of silver medals in the 110m and 300m Hurdles. Dazzling performances were provided by Kolin Dinkins and Dwayne Taylor, who took home first-place gold in the Long Jump and Triple Jump, respectively.
The quartet of Zane Kinne, Jackson Pajak, Gregory Kossuth and Danny Robles claimed second place in the 4x800m relay. The combo of Kinne, Pajak, Zach Nash and Renuk DeAlmeida also took home WPIAL silver in the 4x400m relay. Individually, second-place finishes were turned in by Christian Duckworth in the Pole Vault and Jack Yatchenko in the Shot Put.
Earning bronze medals were Jack Bertram in the 1600m run, Pajak in the 800m run, Ryan Handron in the Pole Vault and Kaden Velasquez in the Discus Throw. The combination of J.R. Burton, Taylor, Jacob Porter and Brandon Farr came in third place in the 4x100m relay.
Up next is the WPIAL Class AAA Individual Championships on Wednesday, May 18.