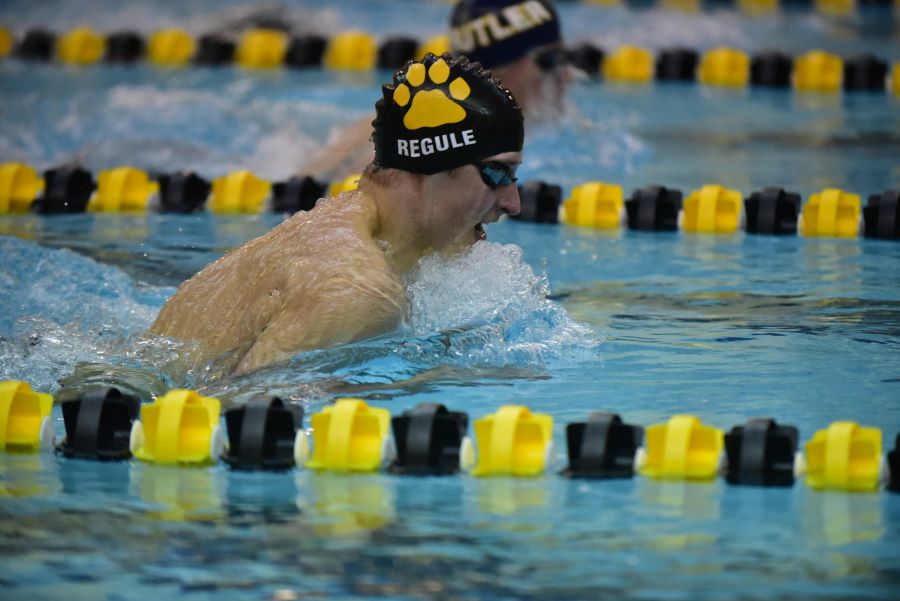 NA Handles Mars For Section Sweep
by Bob Orkwis
The Tigers took care of business in efficient fashion against a team with a much smaller roster, as North Allegheny swept Mars, with the girls winning 86-61, and the boys 77-50.
The Tigers swept the first 17 events on the night starting with the diving competition. Sophomore Lola Malarky started the evening off in spectacular fashion scoring over 50 points on five of her six dives, including 56.25 on her last dive, to finish with a score of 309.30. That score is a new 6-dive pool record at North Allegheny. Junior Alex Palermo beat out two of his teammates to win for the boys' divers with a score of 190.30.
The Tigers then went to work in the lanes and it wasn't until the girls 100 backstroke that Mars placed a swimmer in the top three.
Lexi Sundgren, Leah Laughlin, Tori and Mikayla Tieppo won the 200-medley relay and the team of Danny Lesinski, Emmanuel Chu, Dylan Seiford and Nichols Klein did the same for the boys.
Claire Bacu (2:00.58) and Caden Currykosky (1:51.89) were victorious in the 200-free events, with senior Vivien Li (2:18.19) and freshman Mason Shantz (2:04.60) winning the 20-yard IM races.
In the 50-free events, Shea Mahon (26.80) and Danny Lesinski (22.62) took first, followed by Dani Hinskon (1:00.03) and Klein (55.63) in the 100 fly races.
Natalie Sens (53.75) won the girls 100 free and in the closest race of the night on the boys' side, senior Eliot Maravich (50.46) defeated his teammates Zach Totin and Owen Williams by 1.5 seconds.
Greta Mott (5:20.66) handled the 500 free for the girls, and for the boys', Grant Regule (5:04.11) edged Currykosky.
The Tigers swept the 200-yard free relays and Eva Ogden (1:02.60) and Riley Williams (58.10) took the 100-yard backstroke events.
In the 100-breast events, Lexi Sundgren (1:10.96) and Gus Miller (1:03.64) swam to wins, as did both Tigers squads in the 400-yard freestyle relays to complete the competition.
With their victories, both the girls and boys teams improved to (10-0) in WPIAL meets on the season.
The Wright Automotive Swimmer/Diver of the Night awards went to sophomores Lola Malarky and Grant Regule.
Regule's time of (5:04.11) in the boys 500-yard freestyle shaved 10.02 seconds off of his seed time.
Malarky's 6-dive pool record score of 309.30 eclipsed the previous record of 305.60 that her teammate Christina Shi set on February 1st vs. Seneca Valley.
One final WPIAL meet stands on the schedule for North Allegheny. Next Wednesday, North Hills heads to Wexford to face the Tigers. The NA Sports Network will have coverage of that event beginning at 6PM.