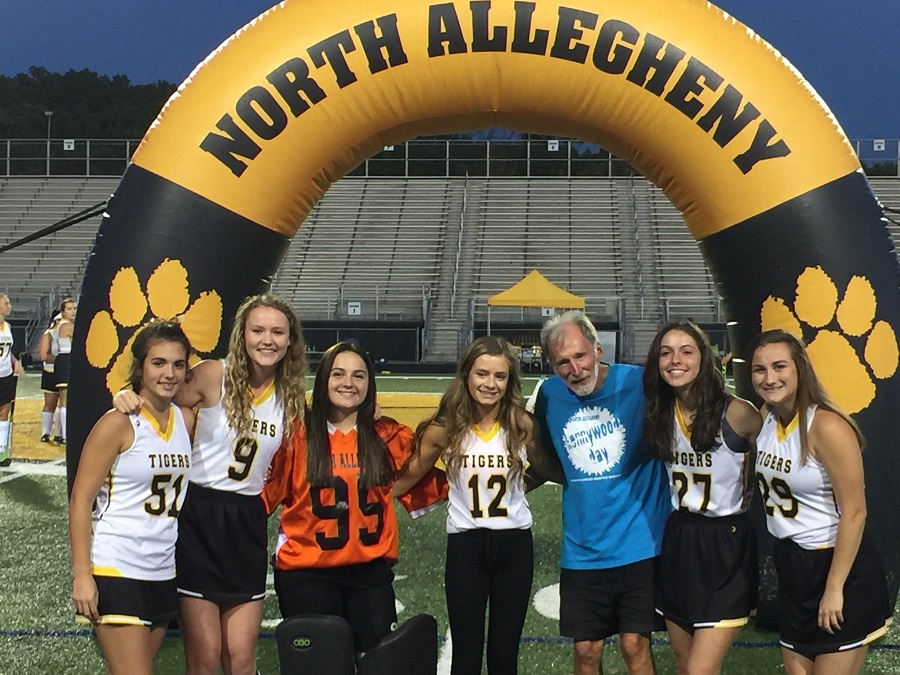 NA Levels Latrobe On Senior Night
Senior Night featured the play of NA's graduating seniors as the NA Tigers outscored the Latrobe Wildcats, 5-1, on Tuesday night at Newman Stadium. (Pictured above are the Tiger seniors with NA Athletic staff member, Jim Turner.)
Just like the first contest against Latrobe, North Allegheny controlled the game and kept the ball in Wildcats territory most of the night.  The first goal was tipped in by Olivia Scherrer at the 17:28 mark.  Goal two was a direct shot by Hailey Wachowiak on a pass from Gracie Limauro, and goal three was from Scherrer on a pass from Wachowiak to end the half with the Tigers up, 3-0.
The second half scoring began three minutes in when Izzy Ingram tipped in a shot from Jenna Beam to make it 4-0. The rest of the half featured continued NA attacks, resulting in 12 penalty corners.  The Wildcat defense was continually pressured by midfielders Angela Genter, Laura Schwendeman and Bridget Russell, who made several nice passes to feed the offensive attack.  The Tigers had 27 shots on goal, but the Latrobe net minder held strong.  Scherrer final broke through with a hat trick when she tipped in a shot from Limauro with six minutes remaining.  As the game clock wound down to under a minute, Latrobe rallied and got their first goal of the game to end the contest, 5-1.
North Allegheny is now 8-3 overall and 5-1 in Section 1-AAA. The Tigers will end the week's play tonight with an away game against the 3-3 Norwin Knights.