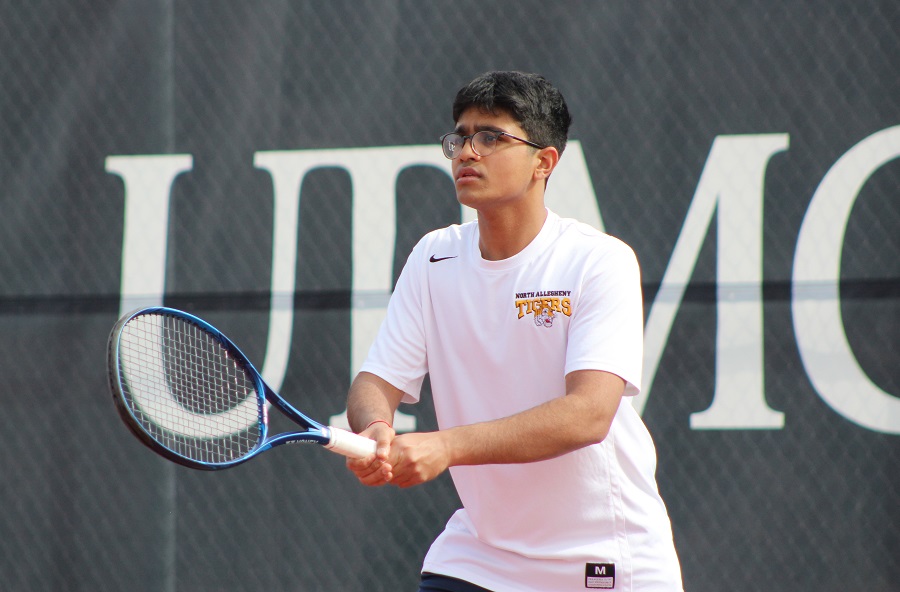 NA Opens WPIAL Playoffs With 5-0 Shutout of Chartiers Valley
In a re-match of their season opener, the Tigers welcomed the Chartiers Valley Colts back to the NASH courts for the first round of the WPIAL Team Championship Tournament Wednesday afternoon.  When the balls stopped bouncing the Tigers took a 5-0 decision and earned the right to advance to the quarterfinal round.
Many of the Tigers' matches were decided in straight sets, starting with 2nd doubles manned by junior Sri Bellamkonda and senior Atharva Sumant.  The second point came from junior Manas Kathir at 2nd singles.  The match clinching point came from the racquet of #3 singles player, sophomore Amit Bhandari.  Senior Shomik Telang and junior Raj Ginde contributed the 4th point at number one doubles, also in straight sets.
Rounding out play, sophomore #1 singles player, Chase Davidson, encountered Ethan Estatico, Char Valley's senior ace in the only three-set match of the contest.   Taking the first set 6-0, Davidson saw Estatico bounce back in the 2nd at 6-4.  Regaining control of his game, Davidson returned the favor with a 6-4 triumph in the 3rd set to complete the team sweep for the Tigers.  With the win, the Tigers improve to 10-3 on the season and move on to the quarterfinal round of the WPIAL Championship on Thursday afternoon against Fox Chapel.  Match time is scheduled for 3:00 PM on the NASH courts.
Match Summary—WPIAL AAA Team Championship—First Round–5/04/2022
North Allegheny 5    Chartiers Valley 0
Singles
#1 Trey Davidson (NA) def.  Ethan Estatico (CV) 6-0, 4-6, 6-4
#2 Manas Kathir (NA) def. Derek Armfield (CV) 6-1, 6-0
#3 Amit Bhandari (NA) def. Brendon Hallisey (CV) 6-1, 6-2
Doubles
#1 Shomik Telang/Raj Ginde (NA) def. Liam Pederson/Brandon Gallo (CV) 7-5, 6-2
#2 Sri Bellamkonda/Atharva Sumant (NA) def. Shokhrukh Kholmatjonov/Ajay Ohmnathan (CV) 6-1, 6-0