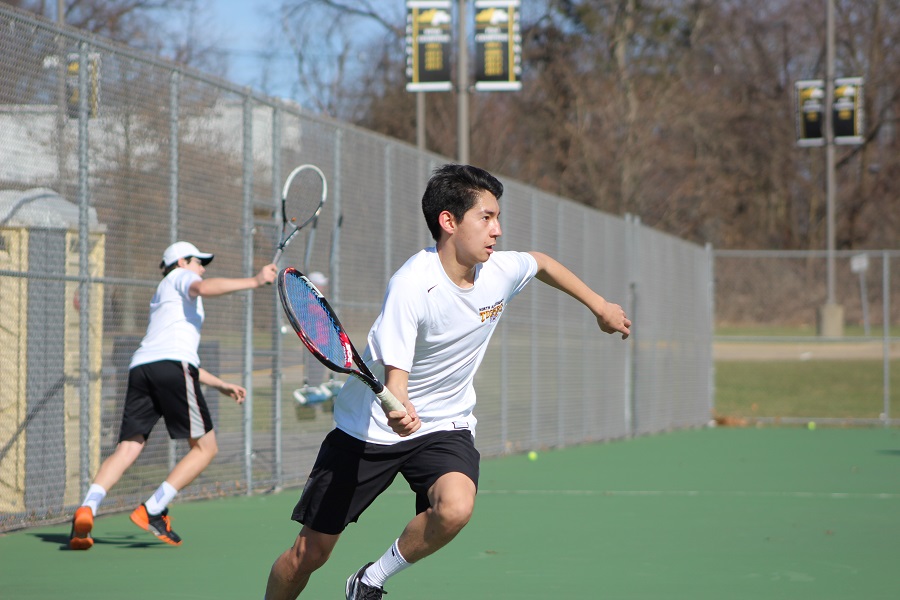 NA Opens WPIAL Playoffs With Win Over Franklin Regional
The Tigers opened their playoff season as the number three seed in AAA Boys Tennis and showed their mettle with a 5-0 win over Franklin Regional in Round 1 of the Team Tournament. Representatives from Section 1, seeded #14, and coached by the legendary Howard Fisher, the young Panthers put up a strong fight before bowing to the more experienced Tigers.
Junior Richard Hofmann tangled with Franklin Regional's ace, Sean Vannatta, and prevailed in straight sets with a great variety of shots.  Junior Ivan Voinov defeated Everest Yan in straight sets, also, at the number two slot.  Not to be outdone, fellow junior Andrew Chuirazzi clinched the match with his straight set win at number three singles over Surya Seth.  Sophomores Mark Chuirazzi and Jerry Huang dominated at number one doubles.  Juniors Reed Stasko and Ethan Schenk rounded out play with a workmanlike win at number two doubles.
With the win, the Tigers' overall season record improves to 11-5 as they now move on to the Quarterfinal Round of WPIAL play. They play Monday afternoon on the NASH courts versus the winner of Wednesday's Shady Side Academy—Latrobe matchup.  The starting time is scheduled for 3:30 PM.
Match Summary – 04/19/2017

WPIAL AAA Team Tournament-First Round
North Allegheny—5, Franklin Regional–0
Singles
#1 Richard Hofmann (NA) def. Sean Vannatta (FR) 6-0, 6-4
#2  Ivan Voinov (NA)  def. Everest Yan (FR) 6-1, 6-1
#3  Andrew Chuirazzi (NA) def. Surya Seth (FR) 6-1, 6-1
Doubles
#1 Mark Chuirazzi/Jerry Huang (NA) def. Vineet Madduru/Justin Lindeman (FR) 6-1, 6-0
#2  Reed Stasko/Ethan Schenk (NA) def. Joseph Bonfiglio/Joey McGinn (FR) 6-4, 6-4