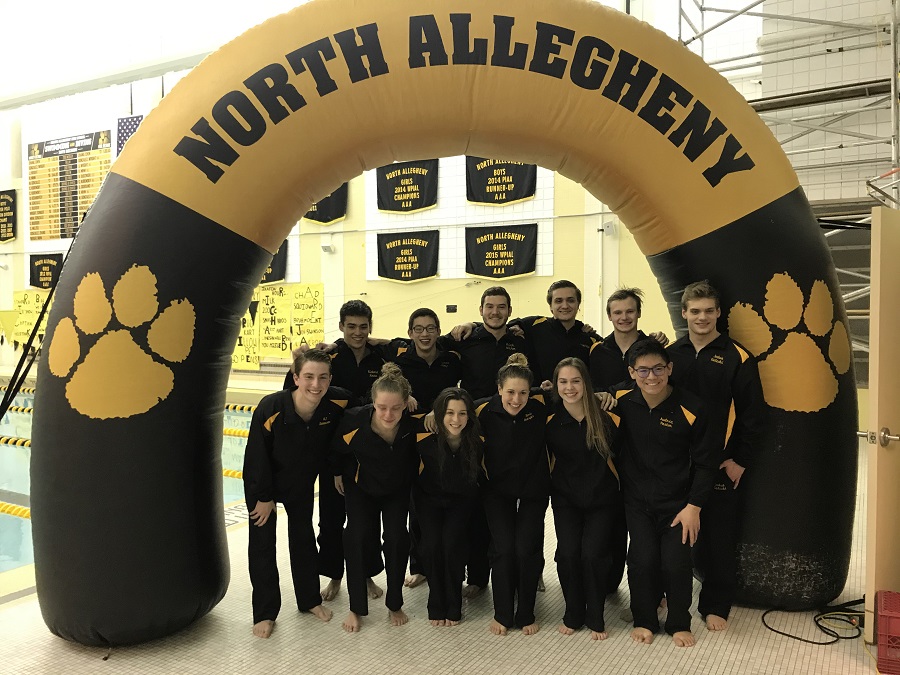 NA SENIORS CAP OFF LAST HOME MEET WITH A WIN
The North Allegheny Swimming and Diving Team had a great sendoff for its senior swimmers by winning the meet against Mars.  The NA Girls won with a score of 96-82, while the NA Boys picked up a 73-44 victory.
The NA girls dominated the meet by winning all individual events and 2 out of the 3 relays.  Molly Smyers led the way with sweeping the 200 Free.  The 200 IM was swept as well, with Isabella Dietz touching first.  Torie Buerger was a double winner, taking both the 50 Free and the 100 Backstroke.  Lexi Sundgren followed suit, winning both the 100 Butterfly and the 100 Breaststroke.  Kara Mihm got the 100 Free, and Olivia Kisow won a close race for the 500 Free.  The 200 Free Relay was won by a team of seniors – Sydney Monteparte, Buerger, Michaela Hinkson and Olivia Kraus.  As an added bonus to the 200 Free, our lady divers got into the action by fielding their own team – Maya Ennis, Olivia Schenk, Jordan Atkins and Jordan Richards were in lane 1.  They finished off the night by winning the 400 Free Relay with the team of Monteparte, Smyers, Quinn Frost and Brooke Glinski.
The NA boys overpowered their competition too, as they won all but one event.  The 200 Medley Relay was won by a team of seniors – Ethan Song, Rick Mihm, Audric Pastor and Branko Kosanovich.  Matt Turzai led a sweep of the 200 Free.  Jacob Yarosz took the 200 IM.  Kosanovich sprinted to win the 50 Free.  A group of seniors also swept the 100 Fly, led by RJ Swanson.  Zach Jubeck touched first for the 100 Free sweep.  Mihm left everybody behind in the 500 Free.  Audric Pastor took the 100 Backstroke.  A team of seniors got the 200 Free Relay – Song, Alex Grahor, Richard Jensen, and Mihm.  There was a bonus here too, as our 2 divers got into the action by being in lane one with two swimmers.  The team was made up of Lucas Rodgers, Will Schenk, Tim Compton and Hayden Klein.  They capped off the night with a win in the 400 Free Relay, with the team composed of Ben Gavran, Stewart Messer, David Shi and Compton.
The Diving Team performed well.  For the girls, Maya Ennis took first, Eva Betz took fifth and Jordan Atkins got sixth.  The boys took the top two spots – Will Schenk won first, Lucas Rodgers got second.
Next up is the last dual meet for the season.  The team will be travelling to North Hills on Tuesday, Feb. 11, with diving starting at 5 p.m.
NA's outgoing Senior girls: Torie Buerger, Michaela Hinkson, Olivia Kraus and Sydney Monteparte.
NA's outgoing Senior boys: Josh Galecki, Alex Grahor, Richard Jensen, Branko Kosanovich, Rick Mihm, Audric Pastor, Ethan Song and RJ Swanson