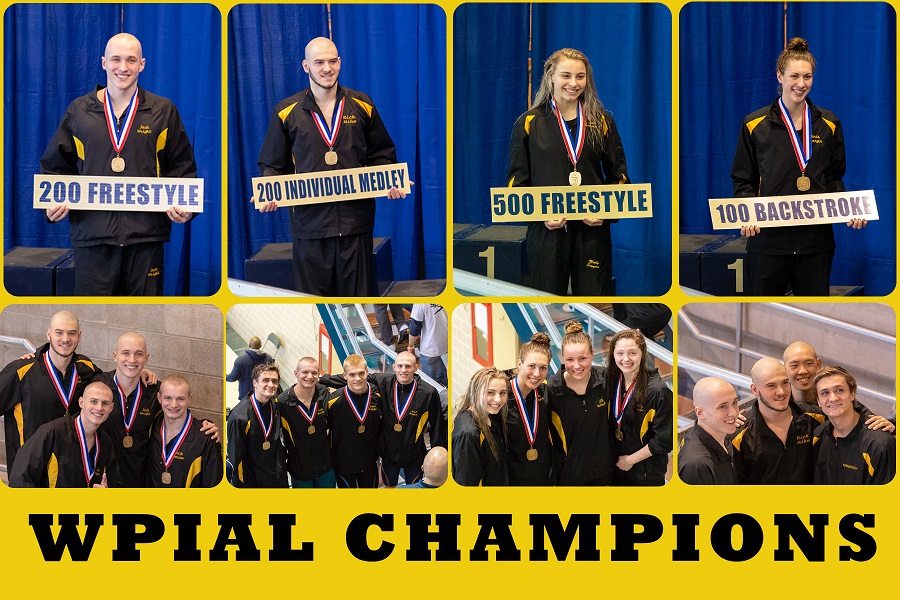 NA Sits In Pole Position After Day One Of WPIAL Championships
The North Allegheny Swimming team began their defense of the WPIAL Swimming title with a strong start to day one of the WPIAL championship competition. The NA boys team holds a comfortable 234 – 144 lead over second-place Upper St. Clair and the girls team had a 198 – 151.5 lead over Mt. Lebanon.

The boys won both relays, finished first in both the 200 Free and the 200 IM and finished second in both the 50 Free and the 100 Fly while collecting their 198 points. The 200 Medley Relay team of Jack Wright, Jerry Chen, Branko Kosanovich, and Ricky Mihm started the boys off with their victory. Wright then won the 200 Free with a WPIAl record time of 1:37.48, with Josh Galecki placing fourth. Mihm won the 200 IM with a WPIAL record time of 1:48.15 and John Ehling finished fifth. Joel Songer finished a close second in the 50 Free and Kosanovich finished runner-up in the 100 Fly. The boys finished day one with Wright, Songer, Tolik Borisov and Mihm winning the 200 Free Relay.

The girls 200 Medley Relay team of Torie Buerger, Olivia Kisow, Lila McGrath and Olivia Krause started the girls events with a second place finish. Molly Smyers then won the 200 Free, with Kisow finishing in third. Buerger finished third in the 200 IM and McGrath finished fourth. McGrath then finished fourth two events later in the 100 Fly. The girls 200 Free Relay team of Quinn Frost, Krause, Kisow and Smyers finished day one with a third-place finish. The WPIAL Championships will conclude on Friday at Trees Pool in Pittsburgh. The events will begin at 8:30AM.