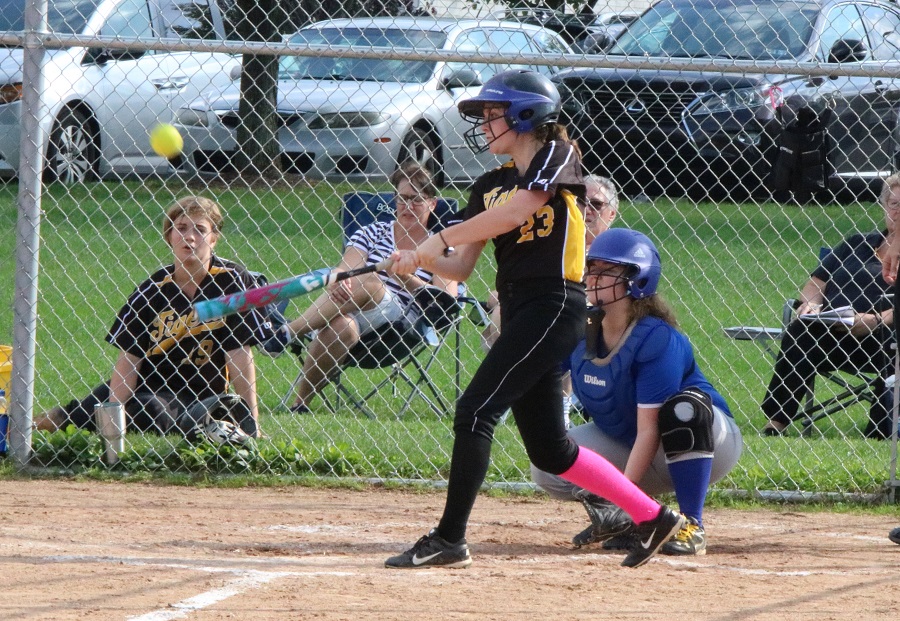 NA Slow-Pitch Falls In Heartbreaker In WPISL Playoffs
by Slow-Pitch Softball Contributor
The North Allegheny slow-pitch softball team lost a heartbreaker in the opening round of the WPISL tournament over the weekend, 19-16, to the Mt. Lebanon Blue Devils.
In the top of the first inning, junior Abby Birch hit a double bringing in a run, quickly followed by senior Jenni Booker with another RBI.  Mt. Lebanon returned hitting every hole, ending the first inning with five runs.
In the top of the second, NA was held at two, but the Blue Devils continued with their strong hitting, earning another four runs.   Sophomore Meg Patterson finally put this inning to its end by catching two tough flies in right field.
The third inning was a different ball game.  Junior Kenna White hit in two runs, finally giving the Tigers some momentum.  Then, Birch got up to bat. Two runners were on base when she smashed it way over the fence.  NA was back in the game with a score at the end of the third inning of 13-7, Mt. Lebanon in the lead.
Both teams were playing tough defense for the fourth and fifth inning.  Booker earned NA one more run, sophomore Lizzie Wetmore made some scrappy stops at short, and Birch and senior Lindsay Holmes also made some dramatic catches in the outfield.  Despite this, NA was still trailing, 13-8.
At the top of the sixth inning, NA filled the bases.  The fans and the players were all on the edges of their seats.  Then, Holmes got a hold of the ball. The ball sailed out of the park for a grand slam homerun.  NA didn't stop there. Birch followed, hitting in two more runs, followed by Wetmore with one more.  Mt. Lebanon, up to bat, couldn't get on base. Senior Melissa Metzger struck one Blue Devil out, and the next two batters didn't have a chance.   NA was finally in the lead, 15-13.
At the top of the seventh inning, Holmes kept the lead with a double and one RBI.  Going into the bottom of the seventh, NA was on top, 16-13. Unfortunately, the Tigers couldn't hold this lead.   A couple runs got by the Tigers, almost tying up the score. To the Tigers' dismay, a Blue Devil hit a grand slam, winning the game for a 19-16 win. It was a heartbreaking end to a tough game played in frigid temperatures.
Great season, Tigers!   Seniors Callie Beck, Jenni Booker, Lindsay Holmes, Sydney Korvick, and Melissa Metzger will all be deeply missed next year.  Best of luck in all you do!