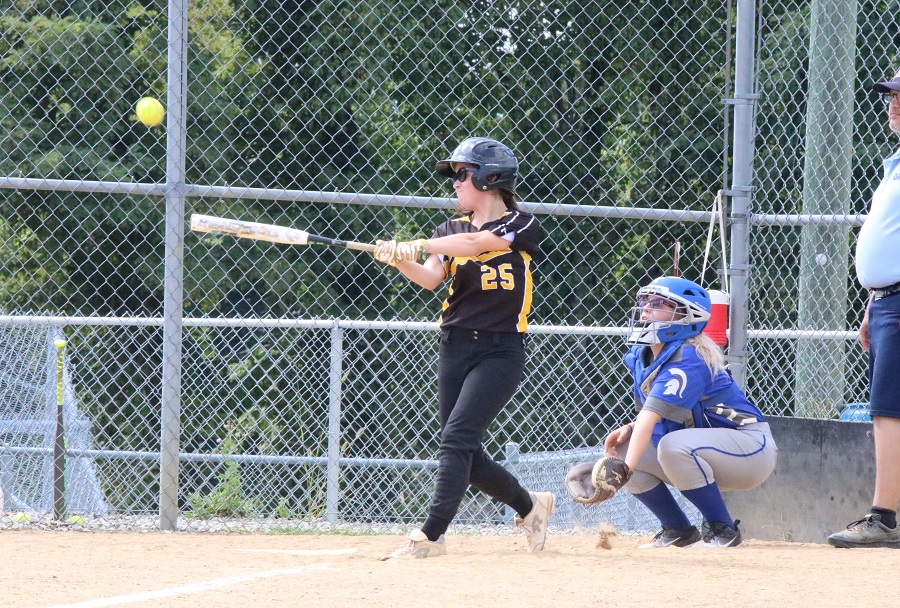 NA Slow-Pitch Hammers Hempfield On Opening Day
The North Allegheny slow-pitch softball team had a strong start to the season with two decisive victories against Hempfield on Sunday. The Lady Tigers swept the doubleheader with wins of 23-1 (five innings) and 11-1.
In game one in the top of the first inning, the Tigers earned 13 runs – all on 2 outs. NA continued to dominate in the first game earning an additional 10 runs over the next four innings.  It wasn't until the bottom of the fifth inning that Hempfield scored its lone run. The final score was 23-1 after only 5 innings.
In game two, NA continued to lead with strong hitting and defense. The Lady Tigers almost made a spectacular triple play, settling for a dramatic double play when junior Kenna White snagged a grounder at short and tossed it to senior Callie Beck at second for the first out. Beck whipped the ball to senior Jenny Booker at first base, narrowly missing the second out, but the play wasn't over yet. Booker rocketed the ball to home, and the catcher, Melissa Metzger, made the out at the plate, keeping Hempfield at just one run in the second game. The final score was 11-1, North Allegheny.
There was incredibly strong hitting from junior Abby Birch with a homerun and two RBIs, White with a homerun and four RBIs, senior Lindsay Holmes with a triple and five RBIs, Beck with a triple and four RBIs, sophomore Lizzie Wetmore with two triples and three RBIs, and freshman Emily Yanchak with a triple and four RBIs.
North Allegheny begins the season with a 2-0 record. The Lady Tigers will host the Plum Mustangs for a doubleheader on Sunday at noon.