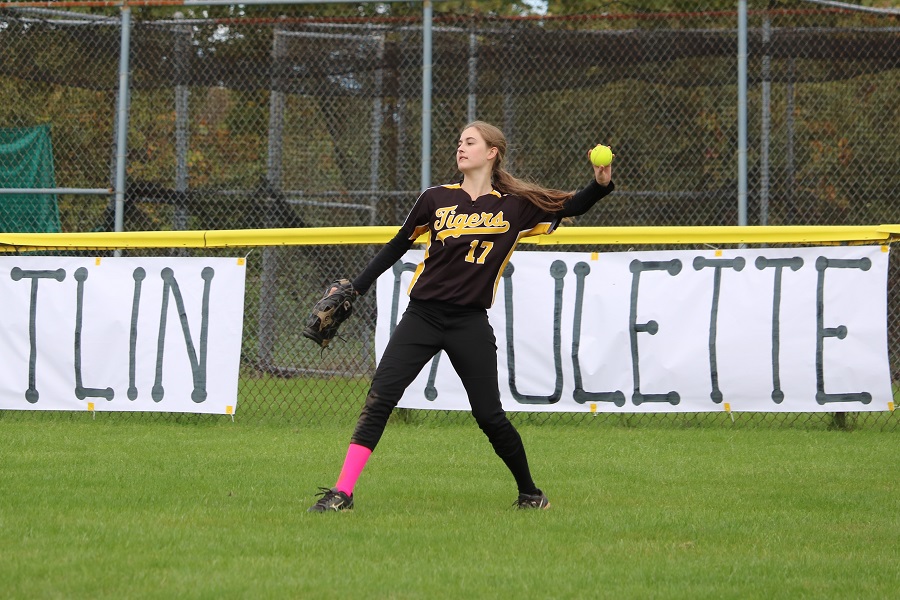 NA Slow-Pitch Sweeps Twin Bill With North Hills
On Sunday, September 10th, the Lady Tigers played a double header against their local rival the North Hills Lady Indians.  The Indians brought a 2-0 record while NA was at 1-1.  Game one was a back and forth affair with each team scoring the first three innings to find the score with NA leading 9-5 after three full.  After a scoreless fourth, the visiting Indians exploded for five runs in the 5th inning to take a 10-9 lead.  NA answered with two runs in the bottom of that same inning and another two runs in the bottom of the seventh to win with a final score of 13-10.  Senior Susie Lawless crushed a "no-doubt-about-it " two-run HR in the sixth and the Tigers never looked back.  Others contributing to the win were junior Lindsay Holmes (3 for 4, 1HR and 3 RBIs) and freshman Claire Medic (2 for 3 w/ 1 run and 1 RBI).  Medic also pitched a great game and issued only 1 base-on-balls.
Game two was a defensive display as the Lady Tigers held the Indians to five runs and went on to win the game 7-5.  This game featured another terrific pitching performance, but this time by junior Melissa Metzger who yielded only nine hits.  NA found themselves down 4-2 after five innings, but found their bats in the sixth with a five run barrage.  Those contributing to the effort were, freshman Lizzie Wetmore, senior Kayla MacDonald, senior Julia Lagnese and senior Natalie Constantakis.
The Tigers find themselves at 3-1 heading into a tough matchup against Baldwin this Sunday at Marshall Middle School at 12:00 PM and 2:00 PM.