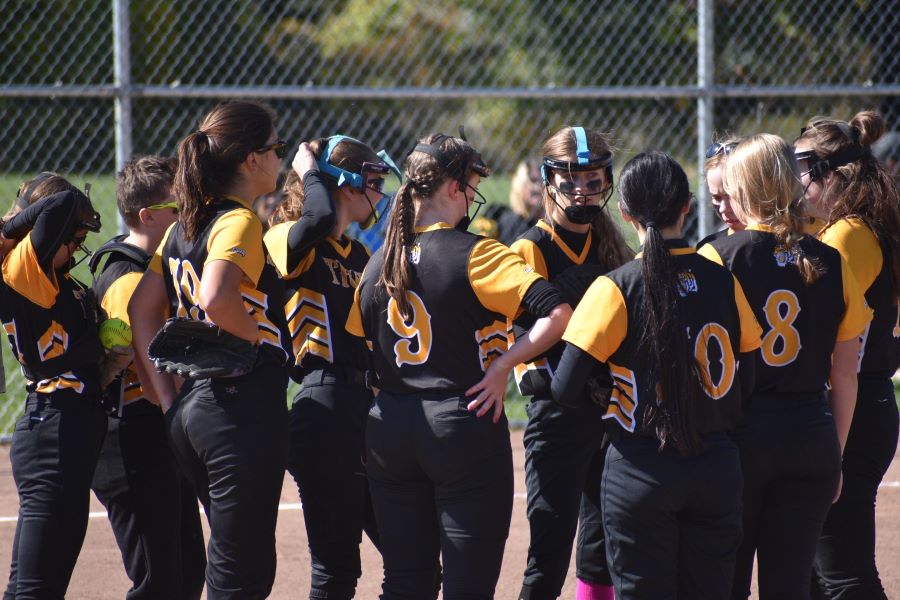 NA Splits Twin Bill With Montour
by Slow-Pitch Contributor
The North Allegheny slow-pitch team split a Sunday doubleheader with visiting Montour on a crisp, sunny Sunday afternoon at Marshall Middle School.
The home team looked to be suffering from Homecoming hangover as the Tiger bats took a while to get going, while the usual solid defense sprang a few leaks in a 15-9 defeat.  Montour came out swinging in the first few innings and despite the Tigers finding their game, ran out of innings and any chance of a comeback.  The offense in game one came from seniors Tye Ross and Nina Pietrzak, along with junior Reilly Spitz, who had multiple hits, while the latter two had multiple RBI's. The sole defensive highlight came from Spitz and senior Riley Yates, who turned a double play, which had the potential to become a rare triple-play.
Game two was a completely different story as the Tigers took a page out of Montour's book and stacked up runs in early and often, which became far too much for the Spartans to overcome and allowed the home team to earn the split with a convincing 21-4 victory.  Senior Helen Katyal led the barrage with four hits, while Ross and sophomore Riley Krieger had three hits. Spitz, Yates, senior Archie Treater, junior Jayna Cole and sophomore Emily Sobehart had multiple hits apiece.  The Tigers had five players with at least three RBI's, combined with consistent hitting throughout the lineup, leaving Montour no hope other than to settle for a split of the two games.  NA's defense came to life and silenced the once noisy Montour bats with another Spitz-to-Yates double play along with several great catches by outfielders Katyal, Kreiger, and Cole.
The Tigers advanced their record to a respectable 7-3, with a full weekend of games next weekend to round out the 2022 regular season.